Tease Me Tonight by Jules Court: Elizabeth is ready for some fun and the chance to just let loose after losing her parents and raising her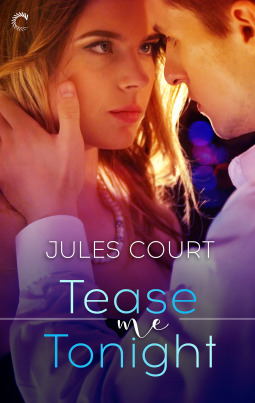 sister. She's put her own dreams on hold to step up for her family and now it's time to focus on her. She is loyal, determined, and afraid of losing someone else.
Will is a sexy firefighter and artist. He has a very tight knit family that is loving, supportive, and loves to razz each other. While posing in that calendar seemed like a good idea at the time, he's sick of the hook-ups and women looking just for one night. He wants to find a real relationship and has vowed to date first.
Attending a bachelorette party should be just the place to have some fun, but Elizabeth finds it disappointing until she meets Will. He seems like the perfect candidate for a one-night stand. They have great chemistry and flirty banter, but they want different things.
"That's not much of a bachelorette party." He shook his head sadly. "Shouldn't someone be wearing a tiara?"
"That's what I thought."
"At least get matching T-shirts made. Show some enthusiasm."
"So you're an expert on bachelorette parties?"
Neither can stop thinking about the other after that night at the bar. While she's not looking for a relationship, Will is fun and it's hard to walk away from their connection. Luckily for Will, he is persistent and makes the most of his opportunities. The more time they spend together, the more he can see them together in a relationship.
"You have an odd idea of fun."
"I also knit scarves-but not hats, because I can't do turns-do the morning crossword puzzle watch reruns of Murder, She Wrote, and floss regularly. I am all about fun."
"Then this might be too much excitement for you."
Tease Me Tonight is a quick, fun, and sexy read. Jules Court entertains with dialogue and banter. Ms. Court provided great secondary characters, especially in Will's family. Fans of Kelly Elliott and Kris Fletcher will enjoy Tease Me Tonight.
Book Info:

Publication: Expected publication: July 31st 2017 | Carina Press | Hot in the City #3
Hot in the City
Firefighter Will MacGregor is tired of being branded not-boyfriend material. It seems he's been on the to-do-once list of every woman in Boston. So when a gorgeous blonde bumps into him at the bar, Will's pretty sure he knows what comes next. Still, their instant connection tells him she could be the one.
Elizabeth Owen has played it safe for the past decade: raising her younger sister and working as an ER nurse. But with her thirtieth birthday looming and little sis off to college, she's ready to let her freak flag fly. That hot guy drinking beer with the wicked grin looks like all kinds of fun. No commitment; no getting hurt.
Though Elizabeth rejects Will's invitation of a date, it turns out she's not averse to some racy sexting and wild making out. But as their brief encounters become progressively steamier, she starts to like what lies beneath Will's gorgeous surface…a lot. And Will is more convinced than ever they're meant to be together—for real.
This book is approximately 35,000 words