Temporarily Yours by Diane Alberts: When Cooper Shillings notices the woman sitting alone in the airport waiting area, he sees the perfect opportunity to at least stay entertained while he waits for his plane to board. What he doesn't plan on is being stabbed by a fledgling superhero and learning the statistics against it from a very nervous and gorgeous actuary. Once he is divested of the offending candy cane 'sword', he realizes that the woman he couldn't help but notice is more than nervous, she's terrified.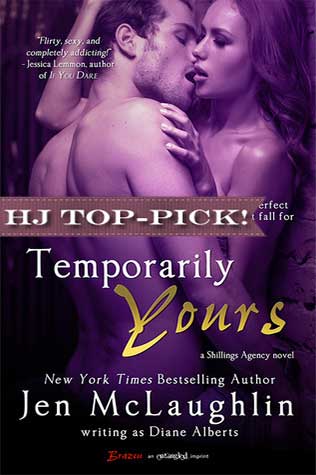 Kayla Moriarity has a lot of things to be afraid of. The chances of dying in an airplane disaster, her family finding out that the fictional boyfriend she's been talking about is truly made-up, or even short-term – embarrassing herself in front of the amazingly handsome man she's babbling in front of while they wait for their flight to board. He's making it easy for her to calm down in the waiting area, it's just too bad he'll be in coach while she's in first class.
Things on the seat arrangement front change, and Cooper manages to help Kayla through the entire flight. So much so that one might wonder how they don't manage to fog up the entire plane's windows. Sex is inevitable between them, and it starts long before they get to a hotel room. It's raunchy, debauched, and awesome – I loved it. I'm pretty sure Cooper and Kayla did too.
When Kayla's mother calls the next morning, she overhears Cooper, and this leads to him offering to be her temporary boyfriend for her sister's wedding and the family festivities. I mean, what harm could it do to pretend to be in a relationship with Kayla when they get to come back to their hotel for more smokin' hot sex? Especially since neither one of them want more than a temporary thing, and he's only got a few days left before leaving the country.
Of course, like all love stories, feelings manage to sneak in – even when you're not expecting them. Nobility, determination, self-respect, even some humility – they all come into play to let the pieces fall into place. It becomes a wonderful balance of steamy hot smexy lurve, and tender realizations and understanding of each other. Cooper and Kayla see each other for what they really are instantly, and it makes for a sandpapery spark that connects the reader right off the bat.
Loved it, as I love all of Diane's work. Great balance of emotions, descriptive situations, and quirky/fun characters. A total win.
Book Info:

Publication: February 3rd 2014 by Entangled Publishing (Brazen)
This soldier's the perfect hoax…if she doesn't fall for him first.
Stats whiz Kayla Moriarity knows her way around numbers and algorithms. Men, on the other hand, are unsolvable equations. Now Kayla's en route to her sister's wedding—alone and without the fictional boyfriend she invented for her family. Fortunately, her plane comes complete with complimentary cocktails and a ridiculously hot ex-marine in the seat beside her. And that's all it takes for Kayla's inhibitions to go sailing out the airlock…
Cooper Shillings has soft spot for people in trouble, but he certainly wasn't expecting to land in it himself—and definitely not while getting naughty mid-air with a sexy southern belle. When he hears Kayla's predicament, however, he offers his services as a stand-in boyfriend. After all, he's heading overseas soon…and how could he refuse a little no-strings wickedness?
It's the perfect plan. And all Kayla has to do is ensure her family falls for the ultimate bluff, without falling for it—and Cooper—in the process…