Today it is my pleasure to welcome romance author
Stina Lindenblatt
to HJ!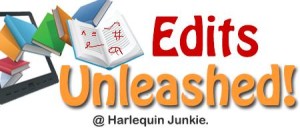 "Edits Unleashed" 
gives authors an opportunity to share with readers deleted scenes that did not make it through the final edits into publication.
Today, Stina will be unleashing edits from her book Tell Me When.
The book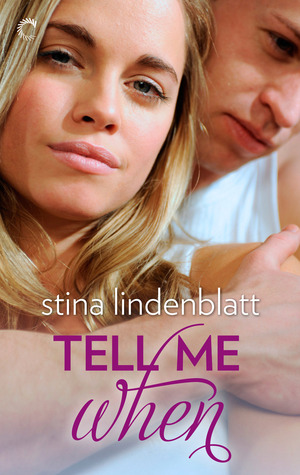 College freshman Amber Scott has dreamed of being a veterinarian for as long as she can remember. But when nightmares and flashbacks put her precalculus math grade in jeopardy, she has nowhere to turn for help other than sexy engineering student Marcus Reid. When their fragile future together is threatened by a stalker Amber thought was locked away for good, Marcus is determined to protect her—and Amber is determined to protect Marcus…even if that means pushing him away.
The Characters
Amber Scott is a bright college freshman struggling in her math class due to issues with PTSD. More than anything, she wants to pass the course so she can pursue her lifelong dream of becoming a veterinarian. Marcus Reid is a bad boy with a heartbreaking backstory and a side to him that most people don't expect. He needs to raise money and tutoring Amber in math is the only way he can do it. But this is Marcus, the guy with a list of sexual conquests several miles long, and he's confused why she isn't interested in his plan of tutoring with benefits.
The Scene
There is no set up for the deleted scene. It was originally the first chapter. The way the second chapter started, the reader was unsure if the first chapter was a nightmare or the actual event.
Edits Unleashed:
Amber

Keep low to the ground. That's the first rule firefighters teach you in elementary school. What they fail to mention is how to escape when you're locked in your own private hell.

Heat claws at the air, at my exposed skin, and singes the edges of what's left of my hope. Smoke reaches into my lungs, igniting another round of coughing as I fight for what little oxygen remains in the room.

My eyes burn, but the tears in them aren't enough to extinguish the heat as a plaintive meow rips at my heart.
I tighten my hold on Smoky, my kitten, my only source of comfort.

My only friend.

With Smoky sheltered against my chest, I bang my fist on the heavy closed door, again and again and again. "Please, Paul!" Don't leave me here to die. I've lasted this long. Two weeks, five days, by my guestimation.

"I'll do anything you say." The last part comes out as a spluttered whisper, barely noticeable over the crackling of the flames engulfing the room. Please don't let me die.

But something tells me it's already too late as the words "Don't worry, Amber. You and I were meant to be together. Forever and ever" ring like funeral bells in my brain. He doesn't plan for either of us to escape. He had it planned all along. My murder. His suicide.

A voice yells outside the door, but it's too muffled for me to understand the words.

I slam my palm against the warm wood. "Help me!" The words scrape past my raw throat. Words I've been taught that are only for the weak.

A feeling of shame doesn't have time to consume me. The crackling and hissing behind me is interrupted by the crashing of the ceiling caving in.

The noise drowns out my screams.
Book Info:
Amber Scott should be enjoying life as a college freshman. She should be pursuing her dream of becoming a veterinarian. She should be working hard to make sense of her precalculus math class.
She shouldn't be waking up her college roommate with screaming nightmares. She shouldn't be flashing back, reliving the three weeks of hell she barely survived last year. And she definitely shouldn't be spending time with sexy player Marcus Reid.
But engineering student Marcus is the only one keeping Amber from failing her math course, so she grudgingly lets him into her life. She never expects the king of hookups will share his painful past. Or that she'll tell him her secrets in return, opening up and trusting him in a way she thought she'd never be able to again.
When their fragile future together is threatened by a stalker Amber thought was locked away for good, Marcus is determined to protect her—and Amber is determined to protect Marcus…even if that means pushing him away.
Book Links:
Author Bio
Born in England, Stina Lindenblatt loves to travel, and has lived in England, the US, Canada, and Finland. She spent a semester in graduate school living in central Finland, and a summer during her undergrad degree working in Helsinki, where she cleaned bathrooms and saunas in a recreation center. She has a Master's of Science degree in exercise physiology and has worked with elite athletes.
In her free time, Stina is a photographer, mother, devoted wife, and loves getting lost in a great romance novel. She currently lives in Calgary, Canada.
Website | Facebook | Twitter |
Thanks for blogging at HJ!
Giveaway:

Winner's Choice of NA (New Adult) ebook

 (gifted via Amazon or Kobo) – open internationally.
To enter Giveaway: Please Post a comment to this Q:

Stalking is common issue for high school and college students. Have you or anyone you know ever been stalked?
Please note: This contest will close on Friday Feb 28 2014 at 8:59 PM (PT) and the winners will be notified via email and on this Post. Winner will have 48 hours to respond to my e-mail before a new winner is selected. All entrants must adhere to HJ's official giveaway policy.
*** WINNER: DJ Sakata ****