In The Boss Who Stole Her Heart by Jennifer Taylor, the loss of his wife devastated Daniel Saunders, but he's done his best to pick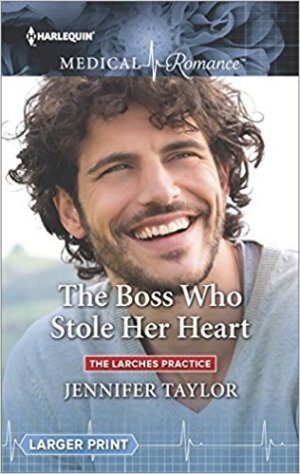 up the pieces and be a good father to his son. He never thought he'd find another woman that could tempt him into giving a relationship another chance, but his newest employee, Ellie Munroe, somehow manages to burrow her way into his heart. Can he convince her to stay when her contract is up, or will the hurts of their pasts keep them apart?
"You're a perfect weight from what I can tell."
"Thank you." She coloured at the compliment. "I wasn't always, though. I was quite a podgy teenager and mum was worried in case I put on too much weight."
"Really? Had it something to do with your home circumstances?"
"Yes." She sighed. "It wasn't a very happy period in my life and I consoled myself with eating. Fortunately, things improved once I went to university."
I love books like this that can make you feel the emotions along with the main characters and give you a good cry, but can also brighten your day too, once you get past the real emotional parts of the characters back stories and they begin accepting that what's happened to them doesn't need to keep them from enjoying life and finding happiness again. The way this story started with Daniel trying not to be so in awe of Ellie had me smiling, as she's the first woman that's captured his attention since his wife died; a death that still affects him, even though it's been a few years since she passed.
The dialogue was intense due to the main characters back stories. Both Ellie and Daniel carry a lot of baggage with the hero's son just beginning to get his life back on track after going off the rails a bit due to the death of his mother. Daniel is determined to show Nathan, his son, that there's no one more important than him. However, it's impossible for the hero to ignore his attraction to Ellie, especially when Nathan is so warm and welcoming towards her and how she helps the hero's son after what happens to him. Certainly, how close Nathan and Ellie become was just as endearing as the growing relationship between the hero and heroine. Ellie is the missing piece to help Nathan and Daniel heal and for the first time, Ellie has the unconditional love she's always wanted.
"Hi, Eleanor. Good to know the old man's had some company while I've been doing my sleeping beauty routine."
"I'm not sure the beauty bit is correct," she retorted, deliberately keeping her tone light. "That's some bruise you've got on your head, young man!"
Both the main characters entertained me from start to finish with their back stories and what they go through on their journey to happy ever after. The teasing between Ellie and the hero's son, Nathan, when something happens to him made me smile. Because, it was palpable the hero worried about his son's reaction to him getting involved with the heroine. Yet, Daniel had nothing to be concerned about, which is proven in the epilogue.
Moreover, Ellie hasn't had it easy, and has always felt like she's not good enough with her fiancée cheating on her and then her adopted parents treating their biological daughter better than her. It was hard not to want to cry because of all that Ellie's been through, and I could understand why she doesn't trust easily, but Daniel's had it just as tough. Indeed, Ellie is strong and brave in the way she's been able to pick up the pieces of her life and do what she did in order to accept the position she did with the hero as her boss. She's also hard-working and I liked the medical problems she had to combat, especially since she got thrown into it pretty much straight away when she started at the practice. Let's just say, Ellie is good under pressure.
"Have a brilliant time. We're here if you need us, but I know you won't, so just enjoy yourself."
"I will." Nathan hugged her back, sounding ever so slightly choked. "You've brought the fun back into my life as well as Dad's and I love you for it."
Overall, Ms. Taylor has penned such a wonderful read in this book where the romance was nicely-written and satisfying, because no one was more deserving of a second chance at happy ever after than these two. The way this story ended had me worried for one of the main characters, but I'm glad how everything turned out. However, it was the epilogue that wrapped this story up perfectly, because of the exciting journey the hero's son is going on and how accepting Nathan was of the news Ellie and his father gave him; a moment that had me crying happy tears. I would recommend The Boss Who Stole Her Heart by Jennifer Taylor, if you enjoy second chance romances or a story encompassing two main characters that need each other so much to heal from their pasts.
Book Info:

Publication: March 21st, 2017 | Harlequin Medical | The Larches Practice #1
Taking a risk with the single dad!
Ellie Munroe retreated to the stunning Yorkshire Dales for a brand-new start. Her plans definitely didn't include developing a crush on her boss, GP Daniel Saunders! Ellie has been burned before, but the handsome single dad tempts her out of sadness…
After being widowed, Daniel believes his heart is more damaged than Ellie deserves. But she awakens a longing that has him wishing for more, and he realizes falling for Ellie could be a risk worth taking!