In The Christmas Wedding Ring by Susan Mallery, Three devastating blows in as many days have knocked Molly Anderson off kilter, leaving her wanting nothing more than to run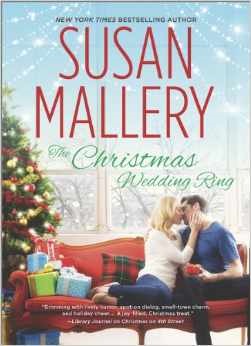 away and sort through the wreckage of her life. Then she finds a memento from her past while packing. A ring that her sister's ex-boyfriend gave her, and with it, the promise of an adventure when she was grown. Dylan Black was the man of her dreams when Molly was a teenager but she hasn't seen him in fourteen years. A crazy idea to look him up and cash in on that promise forms in Molly's mind. When Dylan actually agrees to it, she's shocked. But with a life-changing secret hanging over her, she'll need to focus on being carefree and enjoy what time she has with him. Not worry about what the future might hold.
'She'd broken the rules. This was supposed to be for fun, an escape. She wasn't supposed to fall in love with him.'
Dylan Black has a major decision to make with his custom motorcycle design company. He's spent years and lots of sleepless nights turning his love of design into an extremely successful business. Now he has the chance to sell it for a huge profit. So just when Dylan was looking for a sign, little Molly Anderson walks into his shop. Only she's not so little anymore. She's still just as sweet and smart as ever, but he can't help notice her feminine curves and beautiful smile. Molly offers Dylan the chance to get away and clear his head for two weeks. How could he refuse her when she seems so desperate to cut loose for a change? Friendship comes easily between them, but before long, Dylan is afraid their time together may just create more complications when they part ways at Christmas.
'He couldn't imagine being with anyone else, ever. She was the very best part of him. Together they created pure joy.'
I can absolutely see why The Christmas Wedding Ring was reissued this holiday season. Originally published in 1998, this is a story where the bad boy falls for the good girl…but with a twist.
It will be a bit difficult to review this without giving some of the most important key plot points away, but I'll try my best. Molly and Dylan's reunion after fourteen years, to me, seemed to morph pretty naturally. It started off a tad awkward while they got to know each other again, then the easy rapport they previously had came back, and lastly the chemistry kicked in between them complicating an already complex situation. Suffice it to say that Molly's secret changed what had become a sexual tension filled friendship with Dylan. I thought the whole idea behind Molly seeing Dylan again, years after her teenage crush was interesting and gave us readers a lot to take in. Add in the fact that Dylan had been Molly's sister's boyfriend and…well, what a tangled web that created.
Boy did author Susan Mallery make our hero and heroine work very, very hard for their happily-ever-after in this novel. Which was perfect, actually, because otherwise I don't think it would have been as believable or as touching. As always, Ms. Mallery was not afraid to touch upon difficult subjects or to delve into some darker emotions. But the overall tone of the book was not heavy, per se. There were a lot of fun moments between our protagonists while they fell in love, as well as some very passionate scenes, of course. I felt like Molly and Dylan's story was more about hope and new beginnings. And being set during the Christmas season just gave it that much more of a spark, making me want to cheer them on that much more.
You just can't go wrong with anything written by Susan Mallery. I think The Christmas Wedding Ring is a romance that readers will embrace and take to heart the lessons Molly and Dylan learned on their path to love.
Book Info:

Published October 7th 2014 by Harlequin HQN (first published July 1st 1998)
Re-issue of Wedding Ring Promise – Originally published 1998.
New York Times bestselling author Susan Mallery returns with a classic story of destiny, desire and a little holiday magic!
In her youth, Molly Anderson couldn't help crushing on gorgeous bad-boy Dylan Black—even though he only had eyes for her older sister. When things didn't work out between them, he said goodbye to Molly as well, vowing they'd have a great adventure when she grew up. Years later, dumped by her fiancé just before Christmas, she's finally ready to take Dylan up on his promise.
A guarded Dylan always had a weakness for Molly, and when she waltzes back into his life—grown-up and gorgeous—he's stunned. So why not whisk her away for some no-strings-attached fun?
Laughter-filled days and late-night kisses are changing Molly's life, for good. The only gift she truly wants now is Dylan's love, but when he discovers the secret she's been keeping, she may lose him again—this time forever.