In The Darkest Promise (Lords of the Underworld #13) by Gena Showalter, Cameo has been the host of the demon Misery since she and eleven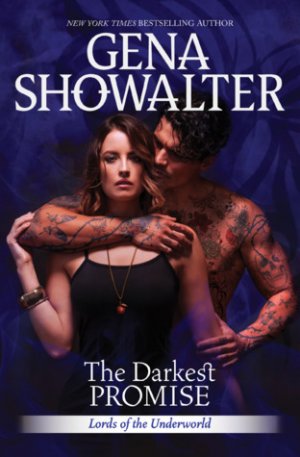 others opened Pandora's box centuries ago. She's spent that time searching for the missing box and for a way to separate herself from the demon who causes her and everyone around her so much sorrow. Sadly, even Cameo's voice is enough to send people into crying fits. But there is one man, Lazarus the Cruel and Unusual, who is not affected by her demon. She's sure they have a connection somehow, but Misery steals her memories every time she finds happiness in any way. If Cameo can locate Lazarus, she hopes to find out how she can rid herself of Misery, help the other lords do the same of their demons, and possibly have a future filled with joy and love.
"Foolish demon." She tsk-tsked. "You've made a grave mistake. You've shown your cards. You're scared of him. Because he can make me happy."
Misery hissed in denial, but the truth was suddenly crystal clear.
Lazarus can make me happy.
Even though Cameo is both a source of joy and pain for Lazarus, he couldn't help but be drawn to her immediately. She is his obsession. The one person he is unable to resist. Over years of wars and bloodshed, Lazarus has earned his name of being Cruel and Unusual but Cameo brings out a side of him he's never before seen. Unfortunately, his enemies could potentially use their emotional connection against him. And with his vendetta for a few certain tormentors from his past still front and center in his mind, Lazarus must push on. He's thrilled to realize Cameo is a warrior in her own right and he can only imagine what a pair they will make battling their enemies together. So he vows to help her free herself from Misery. Even if it means his own demise.
He needed to brand her, needed to bond her body to his, now and always. "You haunt me every waking hour, star in my every dream."
She nipped at his lower lip. "You *are* my dreams."
Twisted, comical, and oh so sensual, The Darkest Promise was yet another satisfying addition to Gena Showalter's Lords of the Underworld series. With a bit of an Alice in Wonderland vibe while our hero and heroine fought for their love, this was a crazy wonderful journey.
'Cameo was worth any risk, and the irony wasn't lost on him. She hosted Misery, but only she could make him happy.'
Like with all of Showalter's books in this series, this may not be for the faint of heart. There were numerous gory fighting and action scenes that were quite detailed. I personally think it fit perfectly with how battle trained Lazarus and Cameo were, both of whom had been fighting and defending themselves for centuries. But sensitive readers should be forewarned of the explicit fight scenes.
I have to say that Gena Showalter has created such an elaborate world for this series. There are so many moving parts, so to speak, with characters switching sides, new details of their pasts being revealed, news about Pandora's box, and even different sides to characters' personalities coming out. Through it all, though, what keeps me glued to the pages is Showalter's storytelling ability. I never know how the book will end but I know it's going to be one heck of a ride! Plus she can always make me chuckle with her one-liners and the sassy attitudes she gives her cast. In this book it was the bickering/bantering between Cameo and Lazarus that made me giggle and outright guffaw at times.
Lazarus and Cameo both pleasantly surprised me in terms of their personalities and with how much they ended up caring for one another. After being around for centuries, they had each endured countless hardships and admittedly some of their history was heartbreaking. Cameo's demon Misery always putting negative thoughts into her head made me feel so badly for her. Especially as her voice made everyone around her cry, causing them sorrow. But Lazarus wasn't really bothered by it and it was fun to see how Cameo opened up around him. They were a perfect pair, even though I wasn't sure I'd like Lazarus at first, with his arrogance and attitude. But I was completely won over by the end and couldn't see anyone else for Cameo.
And so the plot thickens. The Darkest Promise added a whole 'nother layer of complexity to the battle of Hades vs. Lucifer as well as in the Lords of the Underworld's search for a way to free themselves from their demons. I can't wait to see what Showalter has up her sleeve for the next installment!

Book Info:

Publication: Published June 13th 2017 | Harlequin Books | Lords of the Underworld #13
Gena Showalter returns with a sizzling Lords of the Underworld story about an iron-willed sovereign and the somber beauty who melts him with a glance…
Possessed by the demon of Misery, Cameo isn't allowed to experience joy. If she dares, her memory is wiped clean. With no other recourse, she sneaks into a land more fantastical than any fairy tale, determined to find the one man with the key to her redemption.
Lazarus the Cruel and Unusual rules his kingdom with a single unwavering focus: to build his army and annihilate his enemies. Nothing distracts him until Cameo. He is relentless in his quest to make her smile and seduce her into his bed.
As dark forces conspire against them, threatening to destroy the fragile bond they've forged, the once-calm Lazarus grows crazed. Every heart-stopping kiss and wicked touch causes Cameo to teeter on the brink of happiness. But if she falls, she risks forgetting him forever.