Weddings at Promise Lodge by Charlotte Hubbard is ranking right up there as one of my favorite books so far this year!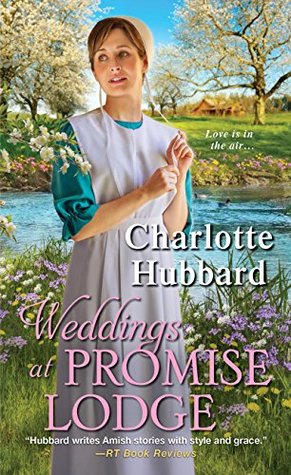 It is such a treat to re visit Christine, Mattie and Rosetta and to see how their new lives and community in Promise Lodge is expanding. And, this time around, to read about Christine and her blossoming relationship with the new bishop, Monroe. Christine, a widow with two young adult daughters, and Monroe, a widower, shared an instant attraction and connection to each other upon his arrival at Promise Lodge.
However, this connection is potentially threatened by the arrival of a young lady from Monroe's former community- unless Monroe can bring everyone, especially Amos, one of the preachers, to the understanding that nothing possibly could have happened between him and Leola. We also re visit Amos and Mattie in their relationship and their new marriage, and Rosetta and Truman as they hope to plan their marriage with Monroes' blessing.
There are so many special and meaningful relationships that develop and strengthen in this story. Charlotte Hubbard is a truly gifted writer, and as always, I cannot wait to see what she writes next!

Book Info:

Publication: June 27, 2017 | Zebra | Promise Lodge #3
Founded by the three Bender sisters, the Amish community of Promise Lodge is thriving—and growing. In fact, residents are thrilled to welcome a charismatic new arrival—one who may not just strengthen their faith, but put it to the test . . .
When Christine Bender meets widowed Bishop Monroe Burkholder, it's love at first sight. But Preacher Amos finds him too good to be true, and is determined to find out what's behind his sudden, unannounced arrival. Still, the colony needs a new bishop, and everyone is excited to have a younger, more progressive leader. As for Christine, Monroe returns her affection, but her bubble is soon burst with the arrival of a young woman half his age . . .
Leola Duff claims Monroe "ruined" her and she now intends to make an honest man of him. But throughout the process of discovering the truth, Christine never doubts that Monroe is the fine man she believes him to be—and never wavers in her faith that all will work out as it should. And when Monroe is forced to confess the truth before the entire congregation, he can only pray that open hearts and minds will prevail, allowing him a future at Promise Lodge—with Christine . .