In The Deep End (Honey #1) by Kristen Ashley, Olivier has been living with two very different sides of his personality battling inside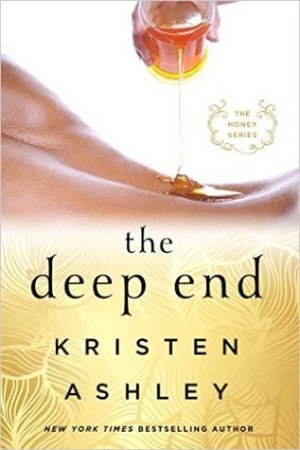 him and knows it's time to do something about the needs he can no longer push aside. He's an alpha guy in his daily life, a take charge person who looks like he should be a linebacker. But in the bedroom he longs to give up control to a woman who can take him new heights, to feel that connection, that bond form. And the Honey club is where Olly finds Mistress Amelie. The woman who is the key to not only finding his sexual freedom but who he can see himself falling in love with outside of the club as well.
"You know you give me more, Amelie. You know I'm only me with you… Only time, even with the others before you, I was able to just be me."
"I'm…I honestly don't know what to say, mon amour. With this, it's me who's honored."
Being the lead Domme at the Honey has given Amelie satisfaction for quite some time but lately she finds herself wanting something more. Possibly a personal relationship outside of the club. And the moment she spots Olivier, a gorgeous beast of a man, she's intrigued. Their time together in her playroom only solidifies the idea that Amelie wants to take things further with Olly. She knows she can be what he needs–as a Domme and as a girlfriend. But convincing her beast that he is worthy of her devotion and that his alpha-sub inclinations don't have to define him outside the club may be a tough sell.
'He craved attention. No he craved *her* attention. He followed her with his eyes not simply because he'd been ordered to do so or he liked the look of her, but because she was the anchor in their world, a world he grappled with his place in, and he needed to look at her. He needed *her*.'
Not just the start of a new series for Kristen Ashley, The Deep End was also her first foray into the erotica genre. And if you thought her other books pushed the boundaries before, then you'll be pleasantly surprised with how much further she was able to go with this romance.
'This–the mutual test, the challenge relayed and accepted, the dare, the impudence, the taunts, the battle of wills–*this* was his favored game. She knew it to her fucking soul.
And it was hers as well, by far the sweetest trip you could take.
Ecstasy.'
Okay, so right off the bat I'll warn readers of a few things. First, this was absolutely erotica, and it was a fairly intense look into the relationship between a Dominant female and her male alpha-sub. So it was a twist on the male Dom/female sub stories we normally see in the genre. It was definitely graphic. It was raunchy. But it was also all kinds of delicious–yet it was even tender and heartfelt at times. Secondly, as to it being graphic and raunchy, there were numerous 'play' scenes of course between our protagonists, but there were also some between the other secondary characters that ended up being F/F, M/M, and M/M/F. It wasn't the focus of the book, but for some readers who shy away from such interactions, be forewarned.
I have to say that I am a fan of Kristen Ashley's writing overall, but saying that, I know it's not for everyone. She has a way of phrasing dialogue that's a bit different than some authors out there do. To me it's real, raw, and exactly how a lot of the people she writes about would truly sound. And I appreciated that she used it to show the difference between where Olivier and Amelie (Loved the names she used!) were coming from, both in their vastly different personal backgrounds and their roles as Domme/sub.
Amelie was wealthy and moved in very different social circles than Olly did and it showed in her speech, her clothing, even her confident gait. Olly was a rough around the edges man's man who loved football and had a very physical, dangerous job. (I won't spoil the surprise) So he came across as sexy in a gruff way, charming, devastatingly handsome, sexy…see where I'm going here? But I thought it worked well that they were, from the outside at least, an opposites attract couple. Although something immediately clicked between them and they connected on not just a physical level but with their personalities as well. I loved the twist that Olly was actually the submissive even though he was all alpha male outside the bedroom. His struggle with accepting those two warring parts of himself was such an interesting thing to watch and I thought he ended up right where he was meant to be: with his Leigh-Leigh–and she with her Beast. 😉
I'm excited to see where Kristen Ashley goes with the next Honey book and I hope her fans will give this new journey a chance, especially if they enjoy reading erotica. Because by the end of this story, I was completely hooked on not just Amelie and Olivier's steamy love affair, but with all of the secondary characters also.
Book Info:

Publication: Published March 7th 2017 | St. Martin's Griffin | Honey #1
Enter a decadent sensual world where gorgeous alpha males are pleasure slaves committed to fulfilling a woman's every desire. At the elite Honey club, no boundary will be left untested, and one's darkest desires will become a sensual reality.
Olivier isn't sure what he's gotten himself into when he joins the Honey Club, only that a dark part of him craves the lifestyle offered by this secret, exclusive club.
When Amèlie invites Olivier to surrender, she pushes him to explore his deepest desires as a submissive. As they grow closer and find themselves falling harder than either of them anticipated, the truth about Olivier's past could threaten the budding relationship they both long for.
Gripping and seductive, The Deep End is the first book in a sensational new series from bestselling author Kristen Ashley.