In Meant to Be (Whisper Creek #5) by Maggie McGinnis, losing her father hasn't been easy for singer Shelby Quinn; a woman known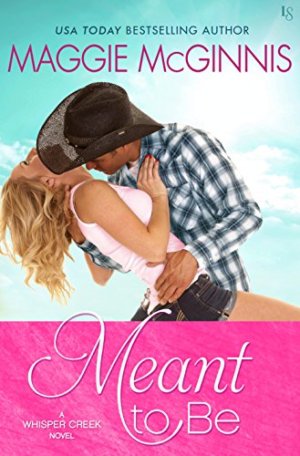 to her fans as Tara Gibson. To cope with the lose and keep her out of reach of paparazzi, Shelby finds herself shipped off to Whisper Creek Ranch in Montana. She never expected to meet Cooper Davis; a man that understands her better than those that have known her for ages. Can she and Cooper find a way to be together, or will Cooper's past ruin any chance they have?
"I'll give it a shot. If it totally sucks, I'll cry uncle and turn Miss Hollywood over to you."
"No, thank you. We'll give her to Cole."
Cooper laughed as Decker threw his own brother under the bus. "That works."
"Bet you never thought a dart in a map would have you prepping to hang out with some celebrity on the lam, right?"
After a bogus investigation landed him in hot water and stalled his career as one of Boston's top detectives, Cooper Davis headed for Montana and ended up at Whisper Creek Ranch. When he's tasked with looking out for Shelby, he's not too keen on the idea. But the more time he spends around her, the more Cooper begins to discover Shelby is nothing like her celebrity persona Tara Gibson. Can he convince her to give him a chance or will his past ruin their chance at happy ever after?
I have loved every book of this series, but this story – I believe — is the best of Ms. McGinnis's Whisper Creek series so far. From start to finish, this book was a fantastic read encompassing well-written dialogue, plenty of emotion that drew me into the story, a hot romance that illustrates perfectly how much this couple are meant to be, a heroine that has lived the last twelve years on someone else's terms and a hero struggling to clear his name after exposing some corrupt cops. The way this story started drew me in immediately due to what Shelby is going through. Her father is dead and certain people expect her to keep up appearances because of who she is. I couldn't help but sympathize with her situation, and I could understand why she reacted the way she does and needs the time away to grieve. There's a bit of mystery to her when she first arrives at Whisper Creek and I enjoyed the way Cooper and the secondary characters attempted to guess what she did for a living, so that she could still have her anonymity until she was ready for the big reveal.
As for the dialogue, it was a wonderful mix of intense, emotional and playful. There was a bit of witty banter between Cooper and Shelby that I absolutely loved, especially the moment when Cooper is talking about a certain piece of furniture that he's attached to. Then there's the moments where they're exploring Whisper Creek and Shelby is determined to be adventurous, because being at the Ranch and amongst her growing group of friends is the only time she's ever felt she could be herself. However, I loved the intense and emotional moments of the dialogue too. Cooper's back story makes it hard for him to get close to anyone, but most especially Shelby, for fear his case turns her life into a living nightmare; the same one he's been living ever since he exposed the corrupt cops and is still living because of the ongoing investigation into the corruption.
Both the main characters charmed me with their chemistry, their back stories and everything they go through in this story. Being at Whisper Creek Ranch is good for both Cooper and Shelby. It gives Shelby a chance to be free of all the pressure she faces as a singer and to just be herself. While in the public eye, she has to constantly be on the lookout for paparazzi where as she doesn't have to constantly be on alert while staying at the ranch, and I liked that she spread her wings with encouragement of Cooper and eventually let her guard down.
"Would you hate it if I admitted I actually think it's adorable that cheesy pickup lines are all you can think of right now?"
"Little bit, yeah." He shook his head. "I mean, come on. I'm the big, bad alpha cowboy here, right?"
"Definitely." She made her face serious as she nodded fiercely. "The alpha-est."
"Fine, princess. Make fun of me. What are you thinking right now?"
While Cooper, he's been through so much. The fact that he was honest and loyal to the badge cost him a lot including his job as a detective and his family. He needs time to come to terms with the investigation he faced and still faces, and where better to do that than Whisper Creek Ranch; a place where he'd have plenty of privacy. However, he does share an incredible bond with his younger sister; the only one that believes in him or so it seems. Their banter was almost as good as the banter between Cooper and Shelby, and the hero's sister helps him a lot by making him realize what he wants more than anything. Especially since he deserves happiness more than anyone after all that he's been through.
Overall, Ms. McGinnis has become one of my go-to authors for contemporary romance, because she knows how to entertain readers with a story that provides plenty of emotion, witty banter and a hot romance that does justice to the couple's strong chemistry. The way this story ended made me love the hero even more, as Cooper goes to great lengths to find Shelby in a place only he knows to look. Because he's gotten to know the heroine very well and it's a place from her childhood memories; memories where she was happiest. Although, it isn't easy for him to find her because of how many of these places there are in Boston. However, it was the epilogue that left me smiling, because Cooper and Shelby are perfect for each other in every way, whether it's in love or whatever direction life leads them. Certainly, the hero proves he can do anything with Shelby by his side, even if it makes him nervous. I would recommend Meant to Be by Maggie McGinnis, if you enjoy the mysterious strangers trope, the friends to lovers trope or a story encompassing a couple that are meant to be.
Book Info:

Publication: March 14th, 2017 | Loveswept | Whisper Creek #5
At twenty-eight, Shelby Quinn's already a has-been. Scooped off a country stage at sixteen and remolded into glittery pop princess Tara Gibson, she toured the country for a decade, playing to sold-out stadiums while slowly losing her soul. Now her sales are waning, and when her beloved father dies in a fiery plane crash, she finally comes apart at the seams. Alone and brokenhearted, she hides away at Whisper Creek Ranch, never expecting to meet a man who understands her in a way no one else ever has.
Cooper Davis was one of Boston's top detectives—until a bogus investigation cost him his badge, his family, and almost his life. Now he's wrangling horses and guests at Whisper Creek Ranch, while keeping one eye firmly on a super-secret VIP holed up in a private cabin—a beautiful, soulful singer who knows what it's like to lose everything. Cooper and Shelby both have ample reason to guard their hearts. But if they can learn to trust each other, something magical awaits them under the big skies and bright stars.