In The Devil's Daughter (Hidden Sins #1) by Katee Robert, Growing up in a cult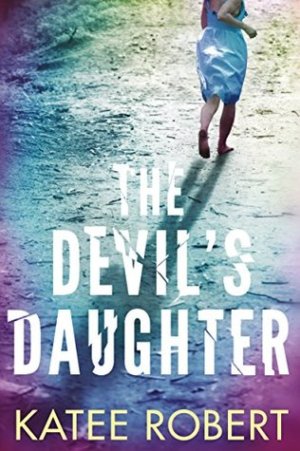 is not something many people can claim to have done and lived to tell about it, let alone escape relatively unharmed. But FBI agent Eden Collins not only grew up in one, her mother is still the cult leader. When a murder case and a mysterious photo of the victim drags her back to Clear Springs, Montana for the first time in ten years, Eden will have to face down her mother and the rest of her past at Elysia. Her arrival isn't necessarily a welcome one by the townsfolk or even Sheriff Zach Owens at first. But when things in the case escalate as well as with her new personal relationship with the sheriff, Eden will have to stay vigilant to keep the town and herself safe.
"If there was a person in this world who'd make me want to stay in one place long enough to figure out if this was something worth pursuing, it would be you."
His thumb traced a pattern on the back of her hand. "I'm not done with you, Eden. Not by a long shot."
Zach is typically proud to be the head of the police department in his sleepy little hometown but when a teenage girl is murdered, he's thrown right back into his dark days overseas in the Marines. Trying his best to find the killer before the locals panic further, Zach isn't impressed when federal agent Eden strolls in. He's suspicious at first at her impeccable timing but the more he speaks with her, the more he realizes she's just looking to help in any way she can. But with her ties to Elysia and all fingers pointing to them as the culprit, Zach knows she's in for a heck of a jolt. And he intends to be there to help her every step of the way.
'He might not know everything there was to know about Eden Collins, but he knew enough to recognize a kindred spirit. He wasn't willing to pass that up without exploring what might lie between them…'
Dark and full of surprising twists I didn't see coming, The Devil's Daughter was one riveting story. A new writing direction for Katee Robert, she made the transition from steamy contemporary romance to romantic suspense with ease.
'Every time she turned around since she'd gotten back into town, she was facing down yet another nightmare. She just flat out wasn't equipped to deal with it. She'd thought she was prepared. She was wrong.'
Wow. I'm still reeling after the incredible ending to The Devil's Daughter. It was actually more of a HFN but boy didn't Zach, Eden, and the rest of the locals have their work cut out for them to get to that point. Now, I feel I should start off by mentioning that this book deals with several things that may be triggers for some readers: kidnapping, rape, torture, gaslighting/mind control. So it does have a darker, grittier edge to it. But it didn't overpower the story, at least to me. I still felt like thanks to good guy Zach and the very brave Eden, that there was a light at the end of the investigation and the hope that the murderer would be caught.
The characters and the plot were a one-two punch that caught and held my attention. There was a rather quick pace to the story but it seemed like it worked well with the way the the investigation progressed, with its many twists and turns. And add to that the dynamics of small town life with people in everybody's business, the mysterious Elysian cult, and the attraction between Eden and Zach, and it kept things exciting to say the least.
I fell easily for both main characters. Zach was the quintessential small town sheriff who loved his town and 'his people', a former Marine who still had nightmares from being in the desert. He was kind of a white knight slash mother hen slash alpha guy who had a huge heart. Zach saw a lot of the same emotions he'd dealt with in Eden's eyes, knowing they had been through similar types of life experiences. She was such a complex woman, one who wanted to do the right thing and stop others from going through what she'd been through growing up in Elysia. I really liked that she was portrayed honestly with raw emotions. Eden wasn't sure what to do with her feelings for Zach or how to handle being back at the commune, near her manipulative mother. Her honest reactions and those of the rest of the characters made everything seem more realistic and relatable.
Talk about a gripping tale of deceit, jealousy, and abuse of control. If you enjoy a well-plotted out story that will not only keep you on the edge of your seat but will also have you guessing until the end, then The Devil's Daughter is definitely for you.
Book Info:

Publication: January 24th 2017 | Montlake Romance | Hidden Sins #1
Growing up in a small town isn't easy, especially when you're the daughter of a local cult leader. Ten years ago, Eden Collins left Clear Springs, Montana, and never once looked back. But when the bodies of murdered young women surface, their corpses violated and marked with tattoos worn by her mother's followers, Eden, now an FBI agent, can't turn a blind eye. To catch the killer, she's going to have to return to the fold.
Sheriff Zach Owens isn't comfortable putting Eden in danger, even if she is an elite agent. And he certainly wasn't expecting to be so attracted to her. As calm and cool as she appears, he knows this can't be a happy homecoming. Zach wants to protect her—from her mother, the cult, and the evil that lurks behind its locked gates. But Eden is his only key to the tight-lipped group, and she may just be closer to the killer than either one of them suspects…