The Engagement Game by Jenny Holiday: When Rose Verman accidentally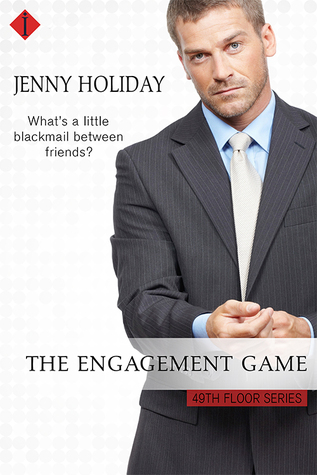 mails a letter meant for her best friend to a donor to the nonprofit she works for, she gets a surprise when the recipient of the letter, Marcus Rosemann, shows up demanding she make up for it. What he wants is for her to attend the Fall Ball with him. She is completely the opposite of someone his father would have chosen for him, and all he wants is to annoy the man.
I liked Rose and Marcus together. They engaged in witty banter, and it was fun reading about them. In their very first meeting, when Marcus tries to blackmail Rose into going to the ball with him, she throws it right back at him.
=="We're in need of a lead donation to really kick off the project with a splash."
"Are you extorting me?"
She raised her eyebrows, as if to challenge him. "You started it. You know, what with the blackmail."==
In order to annoy his father even further, he announces that he and Rose are getting married. While pretending to be engaged, Marcus helps Rose develop a new website for her job, donates money to a cause she believes in, and helps her with the stray animals she takes in.
Sometime–not now, but sometime–he was going to have to examine what it meant that not only was he shoveling money at a cause he was indifferent to and designing a website pro bono, he was now signed up to babysit a destructive beagle named Fifi. All in the name of irritating his father. That was probably a little screwed up.
While they were both using each other for different reasons, they developed a mutual respect, appreciation, and understanding for one another. They develop a playful friendship and spend time together not because they have to, but because they want to. Along the way they both also learn who they really are outside of their jobs.
The Engagement Game by Jenny Holiday is the third book in the series but it is a stand alone. In fact, characters from the first two books are barely mentioned in this one. Not having read the first two books, I didn't even realize that the characters were from those books as they were seamlessly written in.
The Engagement Game has a little bit of everything: laughs, drama, love. If you enjoy relationship of convenience stories, I recommend checking this one out.

Book Info:

Publication: October 5, 2015 | Entangled Publishing, LLC (Indulgence) | 49th Floor #3
The black sheep of the old-money Rosemanns, advertising executive Marcus has made his own way in the world—and done extremely well for himself—but his family is still pressuring him to join their investment firm and settle down with a quiet, unobjectionable girl.
Which is why the sexy Rose Verma is the perfect date for his family's charity ball. A bleeding-heart lefty from the wrong side of the tracks, Rose has never met a stray dog she didn't love or a polka-dotted mini-dress she couldn't rock. Marcus has enough dirt on Rose to "convince" her to play along. And if he lets it slip that they're engaged, all the better.
But all's fair in love and blackmail, and Rose is ready to play a few cards of her own…