The Idea of You by Darcy Burke takes two people with completely different backgrounds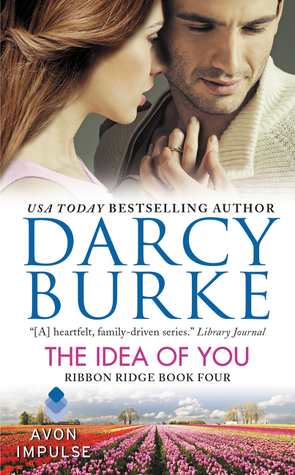 and makes them fall in love. The differences between the hero and heroine are noticeable and not insignificant and watching them fall in love despite their situations, left me thoroughly impressed.
Alaina needs somewhere to hide after the tabloids leak pictures of her leaving a clinic. Since Alaina is an A-list actress, she's front page news and the paparazzi are everywhere waiting for her. She's stuck until a friend offers her a place to stay in Ribbon Ridge, Oregon. After arriving, she meets Evan. Evan is different from any man she's ever met. He's very understanding, down to earth and extremely sexy. He also looks at the world in a different way. He doesn't care about impressing people.
"Careful, I might just fall in love with the idea of you."
I liked that the hero isn't the normal alpha male who knows the right thing to say at the right moment. Evan was different and I love different! He doesn't see Alaina for the movie star she is, instead he sees her as a woman who interests him. But because Evan has Asperger's, it makes things challenging. He doesn't like crowds, and he's sensitive to sound and touch. How can a relationship work with someone who is constantly in the limelight?
"Life is a giant leap of faith, and the best rewards often come when we face our biggest fear."
I will admit to being a little hesitant at the end. I had no idea how the relationship was going to work out and the drama that unfolded left me uneasy and searching for a happily ever after. Thankfully, this author did not disappoint and the ending was perfect for them. If you enjoy contemporary romance with substance, The Idea of You by Darcy Burke is a great choice.
Book Info:

Publication: November 17, 2015 | Avon Impulse | Ribbon Ridge #4
Evan Archer has always preferred peace and solitude to the loud antics of his large, hard-to-navigate family. But when Archer Enterprises needs a new creative director, Evan jumps at the chance to claim the job he's always wanted. Moving home is easier than he expected, but Evan isn't prepared for the stunning A-list celebrity hiding out in his family's garage apartment.
Following a major tabloid scandal, movie star Alaina Pierce escapes to Ribbon Ridge. She's immediately drawn to the quiet, picturesque town and the incredibly sexy—if a little quirky—Evan. He may be built like a Greek god, but he's honest and straightforward… so different from the Hollywood types she normally dates.
Their attraction is undeniable, but Alaina can't elude the paparazzi forever, and Evan has no interest in being in the limelight. When the secret she's been keeping is exposed, the idea of Evan—of real love and a family like the Archers—could vanish in an instant.