In Chance of a Lifetime (Anderson Brothers #3) by Marissa Clarke, Gen Richards is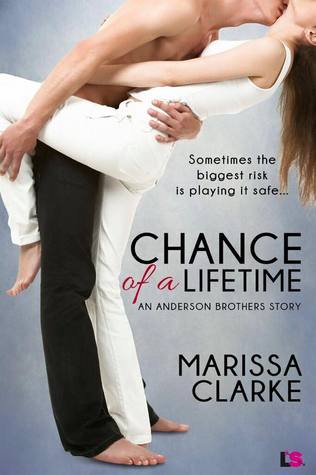 lucky that her brother hasn't labeled her with a sticker that says HANDLE WITH CARE. But now after ten years since her accident, she's sick and tired of his protectiveness. Determined to show her brother that she's just as capable, of taking care of herself as anyone else, she's decided to tackle the items on her bucket list. Yet, she needs help to do it. So she blackmails Chance Anderson – her brother's best friend and the man that deserted her after her accident – to secure his help.
Talk about killing two birds with one stone. Show Chance Anderson exactly what he'd missed when he walked out of her life a decade ago while ticking off her bucket list items. Win-Win. She crossed back to the table and lowered into her seat, turning her face to him. "I won't tell Walter you've been lurking at the bar, but there's a price."
What an incredibly gratifying story that Ms. Clarke has penned in her third book of the Anderson Brothers series. Embracing second chances, a heroine determined to cross off the items on her bucket list to prove her independence, and a hero determined to earn forgiveness for deserting her ten years ago. Immediately, I was drawn into the story because, of the reason Gen has decided to cross off the items on her bucket list. As it combined with her need to accomplish the first one on her list sets the fast-pace of the story.
"Gen. It's good to see you."
"Afraid I can't say the same. Can't see at all…but wait. You know that. You and Walter discussed that at length at the hospital. I'm disabled and helpless."
"I never said that."
"You never refuted it, either."
I absolutely loved Gen and Chance. The playful dialogue between them had me smiling or laughing constantly, especially when coupled with the incidents (especially the swans) that happen as Gen strives to complete her bucket list. I liked the fact that Chance treats her normally, instead of the helpless person her brother thinks she is. Because Gen is definitely capable of taking care of herself and proves it, by getting around New York City with her cane and hardly any help. However, the dialogue also becomes quite intense when the pair discusses what happened ten years ago and why Chance left. As Gen really needs to know, if they have any chance at a future together.
There was so much to like about Gen. She's strong and brave in the way she's finally taking charge of her life, instead, of continuing to abide by what her brother wants. Then there's her determination to complete her bucket list. Because her reason for doing it makes her realize that life is too short, and that she needs to make the most out of life. While Chance, he's noble by helping her, even if Gen blackmailed him. He's also very protective and stubborn, so if he thinks Gen is in any danger when it comes to the items on her bucket list, he'll convince her with an alternative to the activity.
"So walking down the beach half naked with you is a condoned activity?"
"Absolutely."
"I love this place." And she loved him. She always had, but now that she knew what had happened all those years ago, there was nothing to hold her back.
The playful dialogue leading up to Gen crossing off number ten on her list helps them both immensely. Because Gen pushes Chance into seeing that her brother, Walter, doesn't get to dictate her life anymore, and that Chance shouldn't allow Walter to dictate his either. She shows him that love is worth fighting for, no matter how difficult the obstacles, and eventually their chemistry spills over onto the pages in some really hot sex scenes.
Overall, I thoroughly enjoyed this book and even bought the other two books in the series because I loved Chance's brothers – Will and Michael. Chance has such a good relationship with them, and their advice really helps the couple. As they want Chance to find the same kind of happiness they've found with their significant others. I also loved how it ended as Gen finally stands up for herself against her brother, and shows him how independent she can be. I would highly recommend Chance of a Lifetime by Marissa Clarke, especially if you enjoy the second chance romance trope.
Book Info:

Publication: November 16th, 2015 | Entangled Lovestruck | Anderson Brothers #3
Sometimes the biggest risk is playing it safe…
Gen Richards is tired of living down to her family's expectation of the helpless blind girl. Resurrecting her high-school bucket list that begins with "kiss a total stranger" seems just the thing until she finds herself in a panty-melting lip lock with her big brother's best friend.
Chance Anderson thrives on adrenaline, but Genny's the one risk he's not willing to take. His recklessness a decade ago landed her in the hospital and ejected him from her life. He's bad for her and everyone knows it—especially her big brother.
Chance reluctantly helps Gen complete her bucket list in order to keep her out of trouble. Running through a freezing fountain, playing Spin the Bottle while fending off a mad horde of stinging insects, and skinny dipping with homicidal attack swans don't hold a candle to the real danger: falling for the one person he can never have.