In The King (The Original Sinners #6) by Tiffany Reisz, Kingsley Edge is well known in the NYC underground world of BDSM. As a lover of both men and women, King has always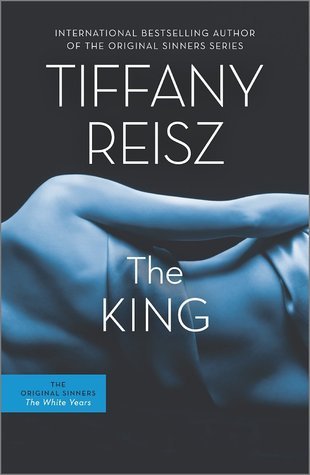 longed for a place to go where he was completely free to be himself without worry of harm from those who are against his lifestyle. When he gets the idea to create his own exclusive club, he finally finds the perfect property to start building his empire. But televangelist Reverend Fuller beats him to the punch by buying the building and refusing to back down when King pressures him to back out of the deal.
"I don't care who his friends are. I don't care how big his church is. I'm not going to let him turn this city into his playground, Sam. This is my city," Kingsley said.
Then one of the most important people from King's past, his former lover, Søren, reappears after eleven long years apart. A lot has changed in both of their lives, but King is still inexplicably drawn to Søren, just as much as he ever was. Unfortunately there are more obstacles in their way now, keeping them from falling back into the relationship of their youth. As King moves forward with plans for his new club, searching out and hiring people who are part of the lifestyle, he encounters more problems with Fuller's church. He's left questioning who he can trust, wondering if he will come out of this unscathed when the dust settles.
'The gentle touches and kisses hurt almost more than the blows from the belt and the cane did. They hurt his heart, and yet he treasured the ache. It was his favorite pain.'
Vive le roi! Long live the King! Kingsley Edge, that is. For those of you who are fans of The Original Sinners series, and even those of you who are new to it, you won't believe the wickedly salacious tale we have here for our very own reading pleasure.
"The true test of love is not always 'Will you fight for it?' The real test of true love is often 'Are you willing to give it up?'"
I just have to say that Kingsley Edge is one of my favorite new literary characters. He is outspoken, generous, kinky, extraordinarily loyal, and oh-so much fun. I loved that I never knew what he was going to say or do. It kept me on my toes waiting to see what King's next scandalous idea would be and who would be involved in the debauchery. Would it be his kick-ass personal assistant Sam? The longtime unrequited love of his life, and Jesuit priest, Søren? His part-time girlfriend Dominatrix Miss Felecia? Or his on-again-off-again playtime partner Blaise? Whoever it was and whatever the situation, it was highly entertaining, while still managing to be heartfelt and full of emotion.
I think author Tiffany Reisz does a wonderful job piecing these stories together so that we can skip around and enjoy the series in any order we wish without losing anything important about these characters. I loved that we got to see the passion King had for those he desired in his life. Especially Søren. Their complicated relationship came alive on the pages, which made me go through the same emotions as King did as I read: the joy, the heartbreak, the longing. For a character that seemed like the ultimate playboy, enjoying both men and women whenever he wished, in reality King was a very complex man hiding a lot of anger and pain. He hid it well, though, with his trademark charm and a good dose of humor.
The King was everything I hoped it would be and so much more. It wasn't just about BDSM, although it definitely had its fair share of racy scenes. This book was a chance to get to know a larger-than-life character and have copious amounts of fun doing so. Highly recommended for erotica fans.
Book Info:

Published November 25th 2014 by Harlequin MIRA | (The Original Sinners #6)
Cunning. Sex. Pure nerve. Only this unholy threesome can raise him to his rightful place as a ruler of Manhattan's kink kingdom.
Bouncing from bed to bed on the Upper East Side, Kingsley Edge is brilliant, beautiful and utterly debauched. No carnal act or chemical compound can relieve his self-destructive heartache—only Søren, the one person he loves without limit or regret. A man he can never have, but in whose hands Kingsley is reborn to attain even greater heights of sin.
Kingsley's plan to open the ultimate BDSM club—a dungeon playground for New York's A-list—becomes his obsession. His expertise in domination can't subdue the one man who wants to stop him. The enigmatic Reverend Fuller won't rest until King's dream is destroyed, and so the battle lines are set; it's one man's sacred mission against another's…