Charming the Firefighter by Beth Andrews: Penelope moved with her teenaged son, Andrew, to Shady Grove after her divorce. Penelope is an introvert and she struggles with meeting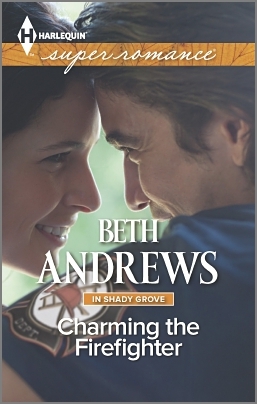 new people. She loves her job in accounting; numbers make more sense to her than people. Penelope is focused on her job and her son. She constantly worries over Andrew's health as well as the changes she has seen in him.
There was never any occasion that didn't go well with chocolate. Even occasions such as suffering first-degree facial
burns, being ditched by your own son, and, oh, yes, being alone while everyone else had somewhere to go and
people who actually wanted to spend the day with them.
Leo is a charming, sexy firefighter. He grew up in Shady Grove with his two older brothers and a sister. He decided to become a firefighter and forgo joining the family construction business. Leo has enjoyed dating and being single, until he meets prickly Penelope.
That was the problem. He was getting tired of the lines. Of the causal hookups.
His family's fault. They'd started an epidemic of coupling the likes of which hadn't been seen since Noah and his
ark. Maddie and Neil. James and Sadie. Eddie and Harper.
It was enough to make even the most die-hard bachelor wonder if he was missing out.
Andrew is not just your typical 16-year-old teenager. He is struggling after his parents divorce, the subsequent move, and his mom's constant concern. He just wants to make friends, fit in, and be normal.
I loved the relationship between Leo and Penelope! They are clearly attracted to each other, but Penelope is cautious. Dating and romantic relationships weren't even on Penelope's horizon before meeting Leo. Leo is intrigued by all aspect's of Penelope's personality and he definitely pursues her. After leading a charmed life with the ladies, Penelope is what Leo needs in many respects. Leo has to be persistent and take things slower.
"Or we could start slow. Have lunch. Or even coffee." His voice dropped to a husky, sexy tone that could strip a
woman of her inhibitions. And her good sense. "It doesn't matter to me. Just a few hours. I'd like to get to know you
better."
She shut her eyes. Counted to ten. But when she opened them, he was still there, broad and earnest and, it
seemed, completely sincere. "Why?"
Leo is also really good for Penelope. Leo understands her, but he also challenges her to rethink her approach to her relationship with Andrew. I also really loved the relationship between Andrew and Leo. Leo had a really positive influence on Andrew.
Charming the Firefighter is a sweet romance with some heat and humor set in a small town. Charming the Firefighter is book #5 in the In Shady Grove series, it can be read as a standalone book. I really enjoyed how Beth Andrews incorporated humor into the book, whether through dialogue or through the thoughts of Penelope, Leo, and Drew. Beth Andrews does a great job evoking the thoughts and feelings of the teenage years from Andrew's POV. Andrew's mistakes, anger, confusion, and desire to fit in are very relatable.
Ms. Andrews created great characters and I'm looking forward to more books in this series!
Book Info:

Publication: December 2nd 2014 by Harlequin
One glance at the hot firefighter who responds to a misguided 911 call and Penelope Denning knows she's out of her depth. Leo Montesano is a charmer with an exciting career. She's an accountant focused on getting her son through his teenage years. Yet Leo is definitely pursuing her. How can she possibly resist?
As the attraction between them ignites, Penelope discovers a wild side she never knew. The passion makes her think about a future beyond this affair, until her real life interrupts. And when she's convinced she must choose her son over romance, Leo does something she never expects!