The Last in Love by Terri Osburn is the fifth book in the Ardent Springs series, but it can be read as a standalone.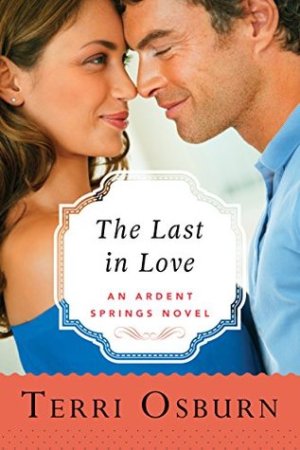 Widow Abby Williams hasn't had any interest in dating anyone the past two years after losing her husband to a roadside bomb. That was until an attractive volunteer firefighter shows up at her place after her stove catches on fire. When she realizes who he is however, she feels awkward considering she used to babysit him.
Justin Donovan returned to Ardent Springs after a business deal with his best friend went bad. He's always had a crush on Abby. He doesn't care about their five year age difference, and he's determined to prove to her that it doesn't matter. Justin gets his chance to spend time with her when he participates in a bachelor auction to benefit the fire department, with a little help from Abby's friends.
"She used my paddle, but it was Haleigh doing the bidding."
"Are you saying your brother's girlfriend just bid on a date with me?"
"Not for herself," she clarified. "For me. A date with you for me."
"That's a relief. I could probably hold my own against Cooper but would rather not test the theory."
When both find themselves unemployed, they decide to set up a landscaping business to win the bid to revitalize downtown Ardent Springs. They use the time not only to plan out the flower placements, but to get to know each other as adults.
I enjoyed this book for the most part, except I couldn't understand why Justin would want to have anything to do with his ex-friend after the way they had left things in Chicago. I also thought Cooper and Abby should have given him a chance to explain the true extent of his involvement with his friend's plans instead of jumping to conclusions. I did appreciate the fact that Justin did what he had to take make things right, even though it wasn't his place to do so.
The Last in Love is well-written with likeable characters, humor, a little bit of drama, and plenty of love. If you've read and enjoyed the previous books in the series, you'll want to read this one as well. If you haven't, I recommend making this your introductory trip to Ardent Springs.

Book Info:

Publication: May 30, 2017 | Montlake Romance | Ardent Springs #5
Abby Williams lost her husband—and the future she envisioned—to a roadside bomb in a foreign land, so a kitchen fire is no big deal. When the local firemen show up to put out the blaze, the army widow finds herself attracted to one hot volunteer firefighter…until she realizes it's Justin Donovan, a man five years her junior.
Justin has long carried a torch for Abby. But after she got married ten years ago, he put her out of his mind, left Ardent Springs for Chicago, and got a job as a real estate developer. Now he's back—for reasons he'd rather not share—and he wants to prove to Abby that age is nothing but a number. Will Abby's reluctance and Justin's secrets extinguish any attempts at romance? Or will the sparks between them ignite a second chance at love?