Faking It by: Carly Phillips and Erika Wilde are one of my favorite author-duos and their collaborations never fail to disappoint. Max and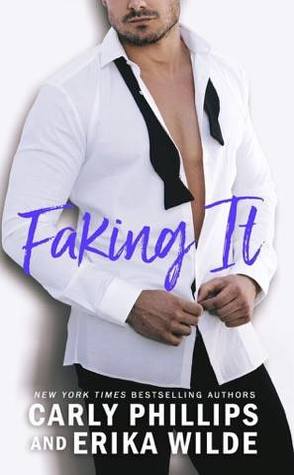 Hailey's love story in Faking It builds sweet and slow with punches of smoldering heat and a tenderness that might induce a few to tears.
Hailey owns an up-and-coming dating agency, but she hasn't experienced much romantic success personally. She's struggled with her weight, and this has made her hesitant to become emotionally or physically intimate. She meets Max when she's looking to buy new office space, and she's extremely attracted to him. Problem is that she pretends to be engaged since her job is to create successful relationships, and she doesn't want her clients to not believe in her if she can't succeed in matching herself.
Max finds everything about Hailey desirable, but he is a nice guy and isn't going to come onto an engaged woman. All bets are off when he finds out she's not actually engaged, and he ends up becoming her fake fiancé through a mishap. He sets out to romance her, and he's sexy and endearing. He shows her just how beautiful she is – whatever her current weight may be.
Faking It is a wonderful romance because it's everything you expect from a romance but also tackles a tough but common struggle for women, and it presents it perfectly. Hailey is described as anything but perfectly imperfect, and Max does a phenomenal job getting her to believe in herself again. Faking It has all the sexiness and witty banter of a Carly Phillips and Erika Wilde collaboration, but it is also heartfelt and touching. Max and Hailey's love story reminds us that the best happy-ever-afters are found when someone loves us just the way we are but also helps us to love ourselves too.

Book Info:

Publication: 4/11/17 | Self-Published |
Confirmed bachelor Max Sterling isn't into rescuing damsels in distress, but when the very tempting Hailey Ellison needs his help, there's only one thing for him to do. Step in and pose as her loving fiancé. Except there is nothing fake about his attraction to her, or how much he wants her beneath him in his bed, moaning his name. But what starts as a sexy, flirty, temporary engagement, quickly becomes something more serious that neither one ever anticipated.