Madeline Hunter's The Most Dangerous Duke in London has it all—a fiery heroine, an alluring duke, a revenge plot, and a mystery—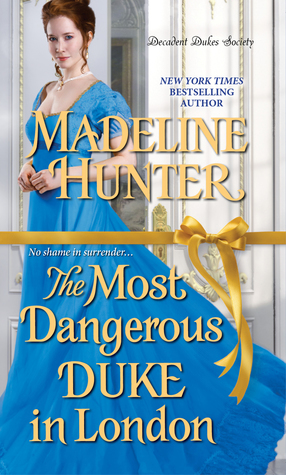 and it is an exceptional historical romance. Adam Penrose, the Duke of Stratton, has just returned to England after five years in France, where he earned a reputation for fighting and winning several duels. He's now known as the "Dangerous Duke" because of it, but there is only one family that has reason to fear Adam – the Cheswicks. Adam's family and the Cheswicks have been feuding off and on for years, and he has reasons to believe they might know about his father's death or have played a part in it. He's determined to discover the truth.
Lady Clara Cheswick hasn't really been aware of the feud or what caused it, but she is suddenly thrust into middle of the family war when her controlling grandmother seeks to marry Adam to Clara's younger sister. She is appalled by the idea, but she doesn't need to worry because Adam is interested in her and not her sister. He's intrigued from the moment he meets her. She's free-spirited, confident and not afraid to tell him that she want nothing to do with him or her grandmother's plot. She was her father's favorite, and he left her a substantial inheritance. She doesn't need to marry and nor does she want to. When Adam decides he wants to marry her, because he wants information and he desires her.
They begin a game of cat and mouse game, and it is captivating to watch. As Clara runs and Adam pursues, the sexual tension mounts, and Clara rethinks her stance on marriage. Well, she still doesn't want to get married, but she is very curious about the marriage bed, and Adam is happy to educate her. I loved these two together as they go toe to toe and round for round, but at the heart of their dance both begin to respect and like the other. There is still the mystery surrounding Adam's father and Clara's family, and this adds an entertaining suspense element to the romance.
You simply can never go wrong with a book by Madeline Hunter, and The Most Dangerous Duke in London should not be missed.
Book Info:

Publication: 5/30/17 | Zebra | Decadent Dukes Society #1
Three sinfully handsome dukes, three scores to settle, three hearts about to meet their matches. All in one thrilling new trilogy from New York Times bestselling author Madeline Hunter . . .
NOTORIOUS NOBLEMAN SEEKS REVENGE
Name and title: Adam Penrose, Duke of Stratton.
Affiliation: London's elite Society of Decadent Dukes.
Family history: Scandalous.
Personality traits: Dark and brooding, with a thirst for revenge.
Ideal romantic partner: A woman of means, with beauty and brains, willing to live with reckless abandon.
Desire: Clara Cheswick, gorgeous daughter of his family's sworn enemy.
FAINT OF HEART NEED NOT APPLY
Clara may be the woman Adam wants, but there's one problem: she's far more interested in publishing her women's journal than getting married—especially to a man said to be dead-set on vengeance. Though, with her nose for a story, Clara wonders if his desire for justice is sincere—along with his incredibly unnerving intention to be her husband. If her weak-kneed response to his kiss is any indication, falling for Adam clearly comes with a cost. But who knew courting danger could be such exhilarating fun?