The Pregnant Kavakos Bride by Sharon Kendrick is a second chance romance for a couple whose attraction to each other was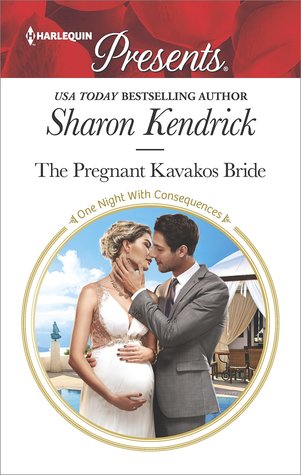 forbidden by their circumstances. Eighteen year old Keeley Turner had come to the lush private Kavakos Greek island of Lasia with her mother, an actress who was known as much for her promiscuity as for her acting roles. A scandal resulted in them being sent from the island in disgrace, but not before a kiss between Keeley and Ariston Kavakos had seared into both their souls.
Eight years later, Keeley meets Ariston's brother Pavlos at an art gallery, a young man whom she'd kept in touch with by social media. They had made a strong friend connection, both being teenagers, on that fateful island trip. Ariston recognizes her, and worries that she's a gold digger just like her mother and is trying to get her hooks into Pavlos. When Ariston discovers Keeley is working as a waitress, it's clear her circumstances have changed. He offers Keeley a chance to work on his island home where they first met, and plans to seduce her so that she'll stay clear of his brother. Unknown to him, Keeley's mother now requires constant medical care and Keeley can't afford to turn down the generous offer for working in Ariston's household so she accepts. At first she tries to stay clear of Ariston, as she hasn't forgotten what happened between them. But Ariston's plan soon works and he seduces Keeley (though she is equally willing). When she discovers that it was all an effort to keep her from his brother, Keeley is quick to break things off. Yet she soon finds herself pregnant, and when Ariston finds out he gives her an ultimatum – give him custody or marry him. Can a marriage of convenience lead to a lifetime of love?
I always enjoy Mediterranean settings and the island paradise that is home to the Kavakos family certainly sounds like paradise. For Ariston and Keeley there are both good and bad memories – their first kiss, but also the humiliation Keeley felt when Ariston rejected her. Coming back to the island brings both those things back, but also a recognition that what attracted them to each other in the first place hasn't gone away, They share some sexy love scenes, but it's not enough to make Keeley stay with a man who has built up a wall around his heart.
Ariston for the most part comes across as arrogant and entitled, a defensive mechanism for his lustful feelings for Keeley. He accuses her of being like her mother and wants to hold on to that ideal to keep himself from falling for her. But he does show some softer moments, and soon comes to realize that he wants more for himself and her from this marriage of convenience that he has forced Keeley into. He has to do some groveling to make things up to her.
Keeley is a strong young woman who had to deal with an embarrassing parent and now her mother's medical issues which have put her in a care home. Where another woman might have abandoned a mother like that, Keeley is a faithful and caring daughter. Her decisions are made with the care of her mother in mind. But she also would never abandon her child, no matter how much money Ariston might offer. It proves to Ariston that she isn't the manipulative woman he believed her to be. Though this couple goes through challenging times, they get their happy ending and have a solid basis on which to build their marriage. Love comes through in the end in this enjoyable and sexy romance.

Book Info:

Publication: June 20, 2017 | Harlequin Presents | One Night with Consequences
Hired by the Greek billionaire…
Shipping magnate Ariston Kavakos expects stunning blonde Keeley Turner to be just like her gold-digging mother. So the only way to keep her away from his brother is to make her a proposition himself: a month's employment–at his beck and call–on his private island…
Her family's finances in dire straits, Keeley reluctantly accepts Ariston's offer. Soon her resistance to his smoldering good looks, and their sizzling chemistry, weakens! But their spectacular night together has an unforeseen consequence, and Ariston makes one thing clear: he won't rest until Keeley becomes his bride…