The Rancher's Baby by Maisey Yates is a sexy and emotional friends to lovers romance, part of the Texas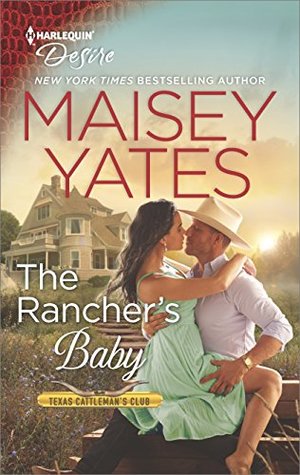 Cattleman's Club: The Impostor series. It's got an interesting start with some surprises that leads into a sometimes heartbreaking story but ultimately a happy ending for a couple who get a second chance to explore their feelings for each other.
Selena Jacobs is drawn into a web of mystery when her ex-husband Will, a college friend she married in order to secure a trust fund, is thought to be dead, but turns up alive and well. In the ensuing drama, her old college friend Knox McCoy, now a rancher in Wyoming who also runs a chain of successful stores, comes back to Texas. When Selena married Will, it put the damper on any feelings that might have led Selena and Knox to more than friendship. And with Selena off limits, Knox followed up by marrying and having a daughter with his new wife.
In a tragic turn of circumstances, Knox's young daughter died of cancer, leaving him and his wife to pick up the pieces. Their shattered lives led to a shattered marriage too. Knox has learned that no good comes of loving someone. And even now that he and Selena are both single, he's firm in his position about not getting romantically involved with another woman. The attraction that simmers between Selena and Knox finally comes to the surface and with a mutual agreement for a friends with benefits arrangement, they can indulge. But if they start to care for each other as more than friends, will Knox be willing to risk his heart again?
This story certainly starts off in an unusual way! The funeral for Will (which turns out to be for naught, since he's not dead) and all the ensuing drama introduces a bunch of characters and sets the backdrop for Knox and Selena's in person reunion. They had remained friends throughout their marriages, and Selena had been one of the few to stand with Knox as his daughter died and his marriage failed. Yet they had not considered anything other than friendship until Knox finds out that Selena didn't initially marry Will for love but as a way to maintain her independence from her controlling and abusive father. It sets things in a whole different light for him and he can finally acknowledge that he's attracted to her, even if he doesn't want another relationship.
The sexy scenes between them lead to Selena's unexpected pregnancy, and Knox must make some tough decisions. It's bittersweet for Knox to think about having another child, and there are some tough emotional scenes in this story. At times his grief is overwhelming. And Selena has her own trust issues to overcome. The mystery of Will's 'death' is not solved in this story, and presumably will lead to some of the secondary characters introduced getting their stories told as part of the series. The Rancher's Baby is not a lighthearted romance but a compelling one, and the happy ending (and epilogue) that Knox and Selena share makes it worth the read.

Book Info:

Publication: Jan 01, 2018 | Harlequin Desire | Texas Cattleman's Club: The Imposter
When a torrid, possibly dangerous scandal comes to Royal, Texas, Selena Jacobs is nearly caught in the middle. Until her best friend Knox McCoy ensures her safety—by moving in! Selena has loved Knox for years, but she's never had the courage to tell him. Now the sparks she's tried to smother burn out of control…and leave her pregnant. But with the pain in his past, will Knox finally take a chance on love…with her?