In The Sweetheart Game (Brash & Brazen #2) by Cheryl Ann Smith, Summer O'Keefe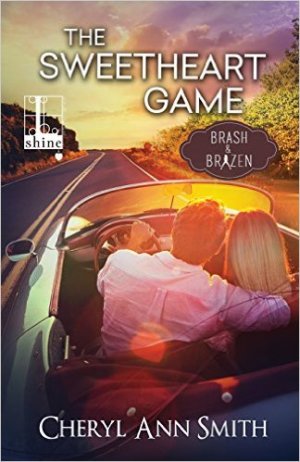 has worked hard since becoming part of an all-female PI firm. So, uncovering what her neighbor is doing during his night-time activity in his backyard shouldn't be too difficult? Luckily, her imagination runs a little wild and she's completely wrong in her assumption. Once she discovers the truth, can she convince her sexy neighbor, Jason Parker, to help her investigate the case of a missing person?
"You must be disappointed that I'm not Ted Bundy." He flopped on the couch and put his feet on the coffee table. "That would have been one hell of a solve on your record."
She perched on the edge of a chair. "I am not disappointed. I am, however, happy the citizens of Ann Arbor are safe." She sipped her beer. "I'm pleased that your grandfather's collection might find a home, and that you are not a complete weirdo."
Having loved the first book of this series (The Sweetheart Racket), and it having been the first book I read by this author, I couldn't wait to read more about the three ex-cheerleaders that now work for an all-female PI firm. Unlike her two friends, Summer doesn't do a lot of field work when it comes to investigations. Instead, she's the one that prefers computers to people. The way this story started with Summer catching sight of her neighbor and how far she goes to discover what he's up to had me laughing. Who knew being on a roof could lead to disaster and total embarrassment.
As for the dialogue, it was intense due to what Summer is investigating, what she believes the hero is up to in his backyard with a shovel, and of course, the characters back stories. Both had messed-up childhoods that have left them wary of trusting those of the opposite gender. However, in saying that, their growing relationship provides plenty of amusement. Summer has a very wild imagination and isn't above using any means necessary to learn answers about Jason to confirm or refute information she's learned from her computer about him.
"You forgot about our messed-up childhoods."
"Right." Summer sighed. "Perhaps we can get a discount on group therapy."
"Or we can have sex. It'll cure about everything."
Her eyes narrowed. He did look yummy all mussed up from their wrestling match. "So will aspirin."
Summer was a fantastic heroine and there was so much to like about her. She's smart, funny and her determination to solve the case of her missing neighbor was endearing. Because field work isn't her thing, and yet, there's no way she's able to let go of the case without discovering the truth. No matter how many twists and turns the case takes. What has happened to her neighbor? Why is she missing? Who is responsible for her neighbor's disappearance? While Jason, he was a wonderful hero that has overcome a lot, and needs someone like Summer in his life to bring light back into it. Really, she brings out the best in him by getting him to open up about what he's really doing in the backyard, by getting him involved in the investigation and by getting him to take care of a stray animal (something he wouldn't normally do, especially not for the kind of animal he's found).
Overall, this second book of Ms. Smith's Brash and Brazen series provided a good laugh, an entertaining storyline and delightful characters that were meant to be (considering the other connection they have, besides their personal one). The way this story ended took me by surprise due to what happened to Summer's neighbor. However, the moment where Jason convinces Summer of how right they are for each other wrapped this story up perfectly, especially when he compares their relationship to different animals / bugs having one partner for life. I would recommend The Sweetheart Game by Cheryl Ann Smith, if you enjoy contemporary romance with a dash of suspense.
Book Info:

Publication: January 10th, 2017 | Lyrical Shine | Brash & Brazen #2
As a former cheerleader turned member of an all-female PI firm, Summer O'Keefe knows how to flirt with sexy bad boys and take down dangerous bad guys. But sometimes it can be tricky to tell the difference…
Summer's new neighbor, Jason Parker, has gorgeous eyes and a mighty cute butt. He'd be a good choice to put an end to her romantic dry spell…if she hadn't spotted him in the middle of the night, burying something—or someone?—in his backyard. Not to mention his distinct resemblance to the international arms dealer she's tracking online. Either way, he's definitely wanted…
Jason has a few secrets, and he's not sharing them with the slightly nutty Summer—at least not yet. Though he's finding it hard to say no to her, with her scrumptious curves and impressive computer skills. He's so far gone he's even taken in a pregnant cat, just to see the smile on Summer's face. But when a local woman disappears, it's time for them to team up and use their combined brains, brawn, and beauty to crack the case…