In The Sweetheart Secret (Sweetheart Sisters #3) by Shirley Jump, Colton carries the burdens of the past heavily on his shoulders. He blames himself for a tragedy that had him running from his young bride many years ago. Now a family Doctor in Rescue Bay, he no longer lets his wild side out to play. Instead he is serious, intense, focused and always putting other first.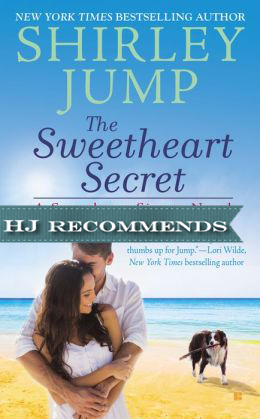 Daisy is the wife he left behind. The wife he still has, thanks to the divorce papers he neglected to file. Daisy is now back in Rescue Bay to save her aunts family legacy, the Hideaway Inn Bed and Breakfast. But she is going to need Colton's help to reach her goal. Colton is stunned when Daisy blasts into his carefully controlled life, with all the energy and magnetism he has tried to forget. Soon they realize they both have something to offer, they can help each other. But can they ignore the attraction that hasn't dulled over time? Or is this a second chance at love for them if they can take the risk?
The Sweetheart Secret is an emotionally charged book that gripped me! The characters are true to life, leaving a lasting memory. Daisy has never really settled down before, but she is determined to try this time. She is impulsive, fun loving, and has a big heart. She is also afraid she won't be able to fully commit to anything, and the urge to run when things get tough or too deep is powerful. I couldn't wait to see how Daisy worked things out, if she would find her forever home in Rescue Bay or leave again. There are so many factors to take into consideration, and the way Shirley worked in real life situations, feelings, and complications really made Daisy realistic. Colton has never forgiven himself for the past, and he is still trying to atone for it, in his mind at least. I loved how Daisy makes him forget his responsibilities even just for a little while, and he realizes just what he's been missing. I liked how their relationship developed, how they recognized past mistakes, and were struggling to come together again.
Daisy and Colton's second chance at love is a great story made even better with a cast of strong secondary characters. Daisy's cousin Emma factors in strongly – she is living a 'fake' life with many secrets. I liked Daisy and Emma's relationship and watching them renew that after years gone by. Colton's grandfather plays a prominent role in his life, and Shirley writes him in perfectly. I loved the meddling seniors who have made Daisy and Colton their 'project'. Especially Greta and her hilarious 'relationship' with Harold. There are a lot of secondary characters you will recognize if you're read the other Sweetheart Sisters books, but even though The Sweetheart Secret strongly ties in to these, it can easily be read as a stand alone.
The Sweetheart Secret has powerful, catchy characters. I liked how Shirley managed to explore family connections and different generations without taking away from the main plot. She also paints a vivid picture of small town Rescue Bay and it's inhabitants! I love the setting and her descriptions of the Gulf coast.
The Sweetheart Secret is fast paced, easy to read and immerse yourself in, and will fill you with all kinds of emotions. I'd recommend The Sweetheart Secret to any contemporary romance reader.
Book Info:

Published September 2nd 2014 by Berkley | (Sweetheart Sisters #3)
The Sweetheart Sisters are ready for some good ol' matchmaking…
Colton Harper, Rescue Bay's resident physician, gave up his wild ways years ago, in exchange for a straight and narrow life. But then a one-night stand comes back to haunt him when the intoxicating woman he left behind shows up in Rescue Bay.
Once upon a time, fiery Daisy Barton was Colt's wife—and still is, thanks to a paperwork glitch. Now she's here in Rescue Bay, with a once-in-a-lifetime chance at a fresh start—renovating a crumbling B&B. The catch? The loan she needs requires her "husband's" financial backing.
Colt wants to turn Daisy away, but when he sees her coax a smile from his cantankerous grandfather, Colt realizes maybe she can help him, too. It's the perfect arrangement—until the sparks start flying. Suddenly Colt realizes he's still head over heels in love with Daisy, and that he'll have to risk everything…or risk losing her forever.