In The Wedding Favor (Save The Date #2) by Cara Connelly, Tyrell Brown leaves the Texas courtroom hoping he'll never again have to lay eyes on "bitch on heels" lawyer Victoria Westin. Unfortunately they meet again on a plane bound for France. What's worse is they don't realize they are both in the same wedding party and will have to endure a long, awkward weekend ignoring each other.
"The last thing I want is to ruin this wedding, which is why I'm standing here talking when I'd rather be choking you."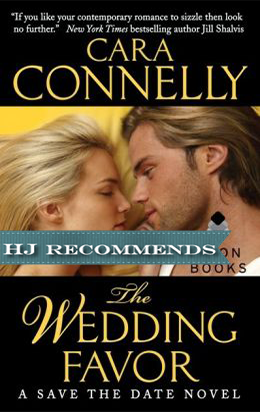 It seems Ty can't help himself but aggravate Vicky every chance he gets. And it's certainly not because she's beautiful when she gets angry. Nope. He's just trying to put her in her place. While he's busy denying his complicated feelings for the lawyer, she gets under his skin until Ty can't think about anything else. The thought of a relationship with Vicky both frightens and excites the Texan. However, their family and friends may have the last say in the matter.
'He was absolutely f****ng crazy about her. And if he was any judge of women, the irritation, aggravation, and exasperation written all over her pretty face meant she was crazy about him too.'
Victoria is ready to leave Texas behind and finally relax in beautiful France for her brother's wedding. Nothing can ruin her downtime. Until she realizes Tyrell is her flight companion and he decides to lay on the charm. She tells herself she will so not fall for his wicked smile. But Vicky stupidly lets her guard down only to be crushed emotionally by Ty. The wedding weekend becomes filled with so many ups and downs that she can't wait until she goes home to New York City, yet in a weird way she'll miss the Texas hunk. Even at home, though, trouble manages to find her. Forced to make some changes in her life, Vicky wonders if she'll ever find the happiness she so desperately longs for.
'In the last forty-eight hours, Tyrell Brown had frozen her out, scared her senseless, gotten her hornier than she'd ever been in her life and then rejected her, snarled at her like a wolf, and now he was strong-arming her. And he expected her to be nice to him for the next four days?'
The Wedding Favor is a super sexy enemies-to-lovers romance that meanders from Texas to France, and winds up in New York City where Ty and Vicky have their final showdown. From point A to point B, not only is there a lot of drama unfolding over the wedding they are attending, but there's a bunch of hilarious and steamy moments as well.
Cara Connelly has created a story that had me fully invested in each character. I loved how sassy Vicky turned out to be under her cool, professional exterior. She was full of life and wanted to have fun but felt she had to prove herself to everyone. And no one pushed her to extremes the way Ty could. His easygoing personality with his Texas drawl and charm had me falling head-over-heels for him. I thought it was so interesting that it seemed only Vicky could see behind that lady killer personality and knew he was lonely, plus fought his guilt over his wife's death.
Even though they didn't want to, Ty and Vicky had an emotional connection that wouldn't let go. They couldn't stop antagonizing each other and constantly fought then made up. But, the sarcastic barbs they threw at each were really quite funny and got them into some unique situations. The secondary characters I found just as charming. Well, except for Vicky's ex Winston and her mother. Yikes. Now they were characters I loved to hate! The rest of the wedding party along with friends and family, though, were all likeable and very well developed characters. They made the plot come alive and I hope we get to see more of them in this series. I would also suggest checking out book one The Wedding Date which was a novella relating back to Ty's Texas roots through his brother Cody Brown.
I definitely recommend this romance to fans of witty stories with strong characters who love to annoy each other in a fun, flirty way.
Book Info:

Published December 31st 2013 by Avon | Series: Save the Date #2
In her deliciously sexy debut, Cara Connelly gives a whole new meaning to crashing a wedding.
Before the wedding
Tyrell Brown wanted to get the hell out of Houston and back to his ranch. Instead, he's stuck on a flight to France for his best friend's wedding. To top it off, he discovers he's sharing a seat with Victoria Westin, the blue-eyed, stiletto-heeled lawyer who's been a thorn in his side for months.
At the wedding
Victoria can't believe it! How can she be at the same wedding as this long, lean cowboy with a killer smile? So what if they shared a few in-flight cocktails, some serious flirting, and a near-miss at the mile-high club? She still can't stand the man!
After the wedding
The wedding disaster's in the rearview, but the sizzle between these two is still red-hot. They tried to be on their best behavior in France, but back in the States all bets are off . . .