In Secret Agent Secretary by Melissa Cutler, Ryan Reitano has been on the hunt for the remaining Chiara brother for the past decade. Unfortunately his Ryan's team disbanded due to someone's betrayal, a mole that has not been discovered yet. Now he is working undercover in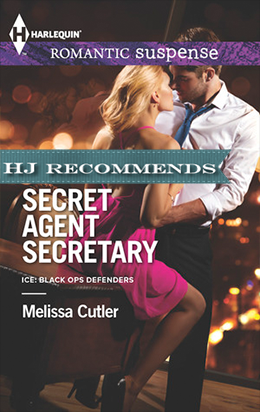 the ICE office to try and find the mole.
Avery works as a secretary at the ICE office, she loves everything about spies, the gadgets the technology, everything! Her secret dream and wish on her bucket list is to be involved in catching the bad guy. Since Avery's parents are pacifist, she has been suppressing her inner desires.
Her chance to change things comes when Ryan asks Avery for a file for a stake out and she cannot locate it, fortunately Avery has a photographic memory and decides to use it to help Ryan. She cannot email him the information, but she can give it to him personally.
Ryan is surprised to find Avery in the hotel in the middle of the action, he has been setup and for a second he thinks that Avery may be the spy. But all of a sudden Ryan sees another side to sexy Avery, including her use of paper clips, her own stilettos and pepper spray, while going with him on a car chase and gun fights in order to catch Enzo Chiara.
Secret Agent Secretary by Melissa Cutler is funny, hot and very entertaining. Avery and Ryan made me laugh and had me hooked throughout the book. I honestly can't wait to read the next book in the ICE: Black Ops Defenders series.
Book Info:

January 1st 2014 by Harlequin Romantic Suspense (Book 1786)  | ICE: Black Ops Defenders
Tops on Avery Meadows's bucket list is assisting in the capture of an international criminal mastermind…from the safety of her desk as an ICE Agency secretary. But when fate catapults her into the arms of sexy, brooding Ryan Reitano — an undercover ICE agent with dangerous secrets and a past he's desperate to hide — Avery's dream of saving the world takes on a whole new twist…