The Man Behind the Mask by Barbara Wallace: Delilah was really close to her best friends, but even they didn't know her deepest secret – that she had fallen for her boss. But Simon Cartwright was way out of her league. He's always in the papers with some gorgeous model or starlet on his arm, arrestingly handsome while she's mousy and ordinary – they'd never, ever be in the same orbit.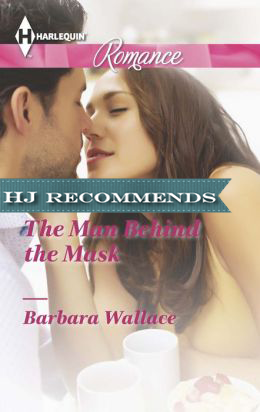 Simon and his team had been working on the Bartlett Ale account for weeks, and it was down to their firm and one other. When Jim Bartlett himself asked to meet with both teams at their headquarters in Boston, he could hardly turn them down – even if it was the last city on the planet he wanted to visit. He knew beyond a shadow of a doubt that he could count on Delilah St. Germaine, his erstwhile assistant, to back him up. After all, she'd be dealing with them just as much as he would, and this would be a good chance for her to get to know them a little better.
Delilah has every confidence in Simon, he's brilliant in his job, and she doesn't think that only because she's biased. He charms every client into signing with them, and Bartlett will be no different. She's honored he's asked her to join him in Boston, but also terrified to spend more than eight hours in his presence. She's comfortable around the office, but not exactly as outgoing as Simon when it comes to meeting new people.
But Simon has a secret. And being in Boston again brings it roaring to the surface. Turns out the world is a pretty small place, and things have a way of coming around to haunt you, even if you're the injured party. His charming and personable facade is slowly cracking and crumbling, and Delilah is seeing it happen. That's the very last thing Simon can afford. Especially now that she seems to have turned into more than his assistant.
She's real, and caring, and sweet – but Simon is broken and irrevocably damaged. There's no way he can impose that upon someone like Delilah. Pushing her away is the only logical choice. With her final words ringing in his ears, can he rise to her challenge and chase away the demons he's suppressed for so long?
First things first, this book deals with disturbing subject matter, and it's not for the faint of heart. I, however, think it's well worth the risk. It's the beginning of a trilogy – and I can't wait to dig into the next two books. Simon is complex and tortured – my heart just twisted when I learned his story. Delilah was hurt in her own way, and while it was different from Simon, it gave her a perspective that allowed her to help him in a way no-one else ever had.
In conclusion, Barbara is an amazing author. I've never been disappointed by her work. I whole-heartedly recommend this one, as long as you can handle extreme angst.
Book Info:


Published January 7th 2014 by Harlequin Romance (Book 4408)
A weekend to change everything…
Delilah St. Germaine fell for New York's most in-demand bachelor, Simon Cartwright, the moment she began working for him. Four years later, her heart still flutters every time he saunters into the office—much to her frustration. He's so far out of her reach it's embarrassing!
Thrown together with him for a working weekend, Delilah glimpses the cracks in Simon's glittering facade. Now she's tasted the sweetness of his kisses, she's determined to uncover the secrets he's hiding and learn who the real Simon Cartwright is. But will innocent Delilah's life ever be the same once the truth is revealed?