In This Heart of Mine (Whiskey Creek #8) by Brenda Novak, Phoenix Fuller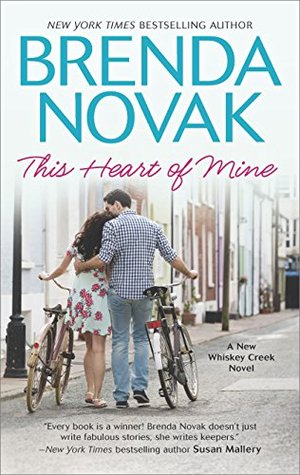 has waited for this moment for seventeen long years: she's back in Whiskey Creek after doing her time in prison for a murder she didn't commit. Now she has the chance to finally meet her sixteen year old son Jacob. That is, if her ex Riley, Jacob's dad, will allow visitation. Phoenix is determined to prove to everyone that she is nothing like the way townspeople have painted her in the past. Yes, her upbringing was different, given that her mom is a reclusive hoarder, and that both of her brothers as well as her father took off. But nothing can prepare Phoenix for the simmering attraction that still exists between her and Riley, or the negative criticism their relationship receives.
'He didn't understand what going seventeen years without that kind of touch did to someone. She was so…empty, so lonely. She didn't want to end up doing exactly what she'd promised she wouldn't do — crave his touch.'
Riley Stinson has spent the last sixteen years as a single dad, growing his own construction business and harboring resentment toward Phoenix for putting him in this position. He still wonders, though, if he should have let his parents, friends, and teachers talk him out of dating the only girl he ever loved and setting in to motion the event that ended an innocent life. Upon Phoenix's release, his worries that jail would turn her into a monster are unfounded when she is nothing but honest and brave in the face of the town's rage. She's even proven herself as a wonderful mother to Jacob. Riley wants to see where their chemistry will take them, if he can only get his family and friends to accept that Phoenix is innocent and deserves a chance in life and in love.
"I'm struggling with all the contradictions. I finally got it through my head that you don't want me…and now you do?"
He flipped his hair out of his face. "It's not fair, I know. I don't understand why everything went the way it did. But since you came home it feels…it feels as if you're what I've been waiting for."
Finally! The mystery surrounding Phoenix is sorted out in This Heart of Mine. This was an intense, emotional, heartwrenching story of redemption that solidified why Brenda Novak has become one of my go-to authors.
Not only was this a truly wonderful tale about a brave woman who had been to hell and back but stood stronger for it, but it is also one of my favorite tropes: second chance romance. Brenda Novak has a way of writing flawed, realistic characters who, to me, are completely relatable. And she certainly isn't afraid to put them through their paces with every new novel. Let me tell you, they earn their HEA, and then some. As a reader it makes that ending so much sweeter after their struggles, as well.
I went into this story pretty curious about Phoenix, but honestly being influenced by Riley and his friend's negative view of her. I was worried I would feel a connection to a convicted felon who might be manipulative or be obsessed with her ex. I was quite pleasantly surprised with how strong, loyal, and genuine Phoenix was, though, once we got her POV. She absolutely knocked me out with how hard she worked to prove herself as a stand-up person and with how caring she was with Jacob, Riley, and her mom.
This book touched upon (like it always does) what it's like to live and function in a small town. In Riley and Phoenix's case, the stigma attached to their high school romance and the after effects haunted them even into their thirties. I was so frustrated with how rude and mean people were to Phoenix after serving her time and trying to do right by her mother and her son. But seeing Riley, Jacob, and even Riley's friend Kyle standing up for her and getting to know the poised woman she had become was so beautiful. There was one scene in particular where Riley witnessed how much a show of generosity meant to Phoenix that literally brought tears to my eyes with the way Ms. Novak wrote it. *happy sigh*
It doesn't matter if you've read any of the other Whiskey Creek books or not, Riley and Phoenix's difficult path to romance is worth every single moment of heartbreak, discovery, and ultimately, joy. Highly recommended.
Book Info:

Published April 1st 2015 by MIRA | (Whiskey Creek #8)
First love. Second chance?
As the daughter of a hoarder, Phoenix Fuller had a tough childhood. So when the handsome, popular Riley Stinson became her boyfriend in high school, she finally felt as though she had something to be proud of. Phoenix was desperate not to lose him; especially once she found out she was pregnant. Yes, she might have acted a bit obsessive when he broke up with her. But she did not run down the girl he started dating next.
Unfortunately, there was no way to prove her innocence. Now, after serving her time in prison, Phoenix has been released. All she wants to do is return to Whiskey Creek and get to know her son. But Jacob's father isn't exactly welcoming.
Riley doesn't trust Phoenix, doesn't want her in Jacob's life. He is, however, ready to find someone to love. And he wants a good mother for his son. He has no idea that he's about to find both!