In Craving Her Enemy's Touch by Rachael Thomas,Charlotte Warrington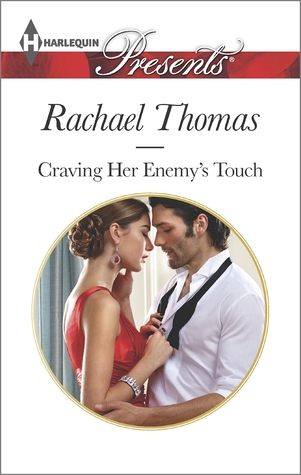 blames the captivating king of the racing circuit, Sandro Roselli for her brother's death. She knows Sandro is hiding something from her and she is determined to get to the truth.Yet life in the fast lane with Sandro is dangerous. As Charlotte's craving for his touch intensifies, she begins to lose herself in his intoxicating world. The irresistible Italian is driving her senses crazy, but can their heady affair survive the dark truth he hides?
Craving Her Enemy's Touch by Rachael Thomas was a well written romance with an interesting plot line and the beautiful Italy as the backdrop.
Sandro is a sexy hero who is honorable and does not believe in love or commitment due to his past. I loved him because he was both mature and charming. Charlotte is a strong heroine who never backs down in her search for the truth. She had been burned before and was not willing to risk her heart again. The characters share an amazing chemistry which makes the romance both passionate and enjoyable. The secret around Charlotte brother, Seb's death add an extra zing to the story.
Overall, I can confidently say that this is definitely the author's best work to date and would be enjoyed by everyone who prefers their romance with an adrenaline rush much like the race circuits!
Book Info:

Publication: April 21st 2015 by Harlequin Presents Series #3336
The only man she hates…
Captivating king of the racing circuit, Sandro Roselli might send Charlotte Warrington's pulse into overdrive, but he's also hiding something about her brother's death. Sandro has offered her a job, but Charlotte will make sure she's in the driver's seat to uncover his secret.
Is the only man she can't resist!
Yet life in the fast lane with Sandro is dangerous. As Charlotte's craving for his touch intensifies, she begins to lose herself in his intoxicating world. The irresistible Italian is driving her senses crazy, but can their heady affair survive the dark truth he hides