In Three Little Words (Fool's Gold # 12) by Susan Mallery, Ford Hendrix is still not sure coming back to Fool's Gold is a good idea. He loves the town and the people, but his mother is on a mission to get him married off. And the sooner the better as far as she's concerned. Ford just wants to get settled and get used to being back among civilians.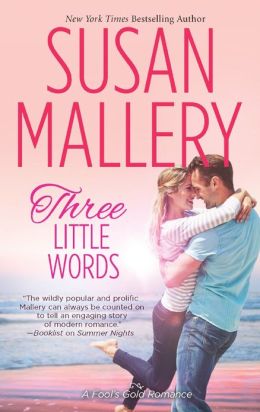 Plus he's in no hurry to try his hand at a relationship again. He thinks of himself as a lifetime bachelor and not the stuff that great husbands are made of. He's seen too much death and destruction in the world while overseas as a Navy SEAL to think he could offer a woman anything long term. Ford figures that maybe if he could get someone to pretend to be his girlfriend it might throw his mother and sisters off his trail for a while. And who better to ask than Isabel Beebe, who professed her undying love for him when she was fourteen as he was headed off to join the Navy. He had been engaged to her sister until Maeve confessed to cheating on him. Isabel then began writing to Ford while he was serving in the military and she became his lifeline to the civilian world. He watched her grow up through the years via her writing and he kept every single letter she ever sent him. He could never quite write back, with all the different locations he traveled and there wasn't a lot he could tell her due to the secrecy of his missions. But Isabel's letters got him through some really tough situations.
"She gathered her resolve and smiled at him. "You're going to have to solve this another way because I'm not going to be your fake girlfriend."
He sighed heavily. "I'm doomed."
"So it would seem. Want a beer?"
His head came up and he grinned. "Sure."
"And like that, he's healed."
"Hey, I'm a simple guy."
It just so happens that Ford is renting the apartment above her parent's garage and Isabel is staying temporarily at her parent's as well, housesitting while they travel. After they are reintroduced to each other, having been apart for over a decade, Ford asks Isabel to be his "fake girlfriend". She turns him down flat. He continues to pester her until she finally concedes. They both know they have a serious mutual attraction going on and Ford hopes he can take advantage of that fact. Their first appearance at a local festival finds them kissing passionately and from there things heat up quickly. Isabel wasn't interested in a physical relationship at first after the way her marriage ended, but Ford proves to her that they can enjoy themselves and still keep emotionally detached. Or so he thinks. He soon finds out that he wants to spend all his time with Isabel, yet keeps telling himself that he's not falling for her. When she makes a huge decision about her future, Ford panics and unfortunately may have just thrown away the best thing that's ever happened to him.
"She laughed. The sweet sound kicked him in the gut. Or maybe a little lower. How was he supposed to think about business with Isabel next to him all night? Not that he wanted her to be anywhere else.
"You're messing with my head," he complained.
"I'm not doing anything."
"Then God help me if you start to try."
Isabel Beebe had a huge crush on Ford Hendrix throughout her teenage years. She can't believe her sister could be such a fool and let him go, driving him away to join the military. She's embarrassed now over the letters she wrote to him and how silly they must have sounded. If he ever actually read them, that is. But Ford is back in Fool's Gold now and staying next door. Isabel makes the first move to make sure things won't be too awkward between them and is surprised how incredibly sexy he still is when they meet for the first time. He's also cocky and quite sure of himself. She's shocked when Ford asks her to be his fake girlfriend. It's tempting, just to get the opportunity to spend a lot of time with him, but it's a bad, bad idea. She can feel the sparks between them already and knows it would only get more intense. But Ford finally wears her down. Isabel tells herself it will be fine because she'll be going back to New York to start her fashion business with a friend in a few months, so there's an exit in sight. Only, she can picture herself staying in Fool's Gold, taking over her family's business and having a future with Ford, even though he says he doesn't do relationships. He ignites something in her that she's never had with the few other men she's been with. Her business plans get thrown into a tailspin and Isabel then is forced to make some tough decisions. Should she stay in town and pursue her dreams here, Ford included, or should she cut and run, going back to New York to start fresh?
"In that heartbeat, fun, charming Ford was gone and in his place was a man hungry for a woman. Even with her limited experience, she recognized the need.
Her stomach clenched as unexpected wanting ripped through her. She forgot where she was and what they were talking about."
I feel like I say this every time I read a Fool's Gold book but…I LOVED this story! Susan Mallery has yet again given us a couple who are perfect together in every way but just can't admit it to themselves. Ford doesn't think he can love any woman–that he's destined to only have casual relationships, and Isabel has a hard time trusting her gut instinct after her divorce. The dialogue between them was fun and snappy, keeping me chuckling the whole time. And we also get to see Kent Hendrix and Consuelo Ly begin a relationship which made this worth reading for that part alone. Love it when we get a twofer! I guess I just have to admit to myself that I am addicted to Susan Mallery's writing. I wonder if there's a twelve step program for that?
Book Info

Publisher: Harlequin HQN (July 30, 2013)
Can first love turn into the real deal? Anything can happen in a sizzling new Fool's Gold story from New York Times bestselling author Susan Mallery. 
Isabel Beebe thinks she's cursed in the romance department. Her teenage crush, Ford Hendrix, ignored all her letters. Her husband left her for another…man. So Isabel has come home to dust off her passion for fashion and run the family bridal shop until her parents are ready to sell it. Then she'll pursue her real dreams. At least, that's the plan, until sexy, charming Ford returns and leaves her feeling fourteen all over again…..
Seeing Isabel all grown-up hits bodyguard trainer Ford like a sucker punch. Back when heartbreak made him join the military, her sweet letters kept him sane. Now he can't take his eyes—or his lips—off her. The man who gave up on love has a reason to stay in Fool's Gold forever—if three little words can convince Isabel to do the same.
If you're a fan of Fool's Gold, you'll love Ana Raquel and Greg's delicious romance, featured in Susan Mallery's Fool's Gold Cookbook, along with her favorite recipes from the land of happy endings.