Temptation on His Terms by Robyn Grady is a deeply romantic story with an edge of danger added in. Readers will be enticed to turn the pages to find out what happens next. Robyn Grady does a stellar job of keeping you glued to your seat.
Dex Hunter's father is being targeted by someone who is intent on taking his life. Dex has agreed to take in his little brother Tate in order to keep him safe. But Dex has his hands full with work, so he must hire a nanny to look after Tate while he is away.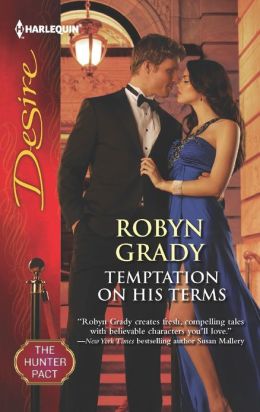 Shelby Scott has experience with children and she comes to apply for the nanny position. But when she arrives, she finds Dex in a compromising situation with a woman. Not wanting to work for someone who so blatantly shows public displays of affection, Shelby is prepared to turn Dex down.
After some coaxing on Dex's part, he is able to talk Shelby into taking the job. It doesn't take long before an attraction starts to sizzle between the two. But Shelby has been through a devastating break-up and finds it hard to give her heart away. Can Dex convince her that he is willing to do anything to win her affections?
It appears that someone is also out to get Dex. There are mysterious fires that are being started at his home. He will do anything to keep his brother and Shelby out of danger. I really loved how Dex was such a strong family man. I loved his romantic gestures toward Shelby. At times Dex made my heart melt.
Shelby is really great with kids but not so great with love affairs. She lost her last lover to her best friend and this has deeply scarred her. Dex must work extra hard to win her love.
While Dex and Shelby do get their happily-ever-after, the mystery surrounding Dex's father is not solved. I am hoping that because this book is part of a series that readers will find out more about this situation in an upcoming book. If you don't like cliff-hangers then you might find this to be irritating.
If you are looking for a good, solid romance then look no further than Temptation on His Terms. Robyn Grady has spun a tale that is part mystery and intrigue with some spicy heat. This is the perfect book in which to wile away an afternoon.
Book Info

Publication Date: July 1, 2013 | Series: Harlequin Desire (Book 2243)
The Nanny's Starring Role
Amid growing threats to their high-profile family, studio boss Dex Hunter takes custody of his little brother—and tries to put his routine as a Hollywood player on hold. Too bad his brother's new nanny, Shelby Scott, is so easy on the eyes! Soon Dex will do anything to keep Shelby by his side. But when it comes to men, Shelby made a pretty big mistake back home, one that she isn't about to repeat. Now Dex needs to prove he's ready to settle down if he wants to heat things up.