Twin Secrets by Jules Bennett is the story of Annabelle, a woman dealing with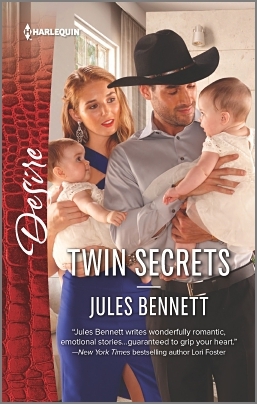 the loss of her sister, her ex-fiance, and possibly her childhood home all at once. Back home and now guardian to her twin nieces, her father's gambling debts have seriously jeopardized her plans to turn that childhood home into a bed and breakfast. An arrangement with their neighbor, wealthy rancher Colt Elliott has kept them from complete bankruptcy. He's paid off the bank loan in return for regular payments from Annabelle's father, but in truth her father can't pay them either. Annabelle plans to get a job to pay off Colt but he offers her one on his ranch, with an ulterior motive – he's attracted to her feisty nature and hopes she'll end up in his bed. There's more than one secret between them though, and as they grow closer so do the odds of being found out. Will they make it to a happy ending?
I enjoyed this ranch set romance. Colt comes off at first as rather arrogant and entitled, especially when his motivation to get Annabelle in his bed is not based on any long term commitment plans but on pure lust-at-first-sight. But over time his feelings for Annabelle become real and he shows that he admires and respects her. He actually is a nice guy at heart, and he starts to feel guilty over the secrets he's keeping from her, ones he knows will affect their developing relationship. I enjoyed seeing him come to terms with his feelings for Annabelle and her girls, with his desire to make them happy overtaking his secret plans.
Annabelle is a feisty, strong woman who's had a tough go of things. She's making the best out of a bad situation and is determined to show Colt that she's up to the tasks he sets out for her on his ranch. She's attracted to him too, though she is able to hold him off for a little while, knowing that things will get complicated if she sleeps with him. They eventually succumb to their attraction for each other in some sexy scenes. Her father's gambling problem is of serious concern and it's clear that his promises to deal with it are glib. I think it was treated a bit too lightly in the end and wasn't really resolved. But the romance between Colt and Annabelle developed nicely and I was pleased with how they got to their happy ending. It's a sweet and sexy romance.
Book Info:
Publication: Mar 1, 2017 | Harlequin

Desire | The Rancher's Heirs #1
This wealthy rancher is about to meet his match…and her two little secrets!
Colt Elliott is as handsome as he is cunning. And he wants his neighbor's ranch. So when the owner's beautiful daughter begs him to save her family's home, he gives her a job so she can pay off her debt…and he becomes consumed with a new goal: seduce the fiery virgin.
But Annabelle is the guardian of her infant twin nieces and all three ladies begin to pull at his heartstrings. Colt will go to any lengths to get what he wants—but will his hidden agenda cost him Annabelle?