Walk of Shame by Lauren Layne: I have three words to describe Walk of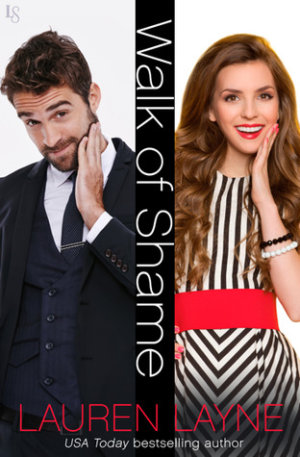 Shame: fun, fun, fun! (I know that isn't very creative, but it really does describe the reading experience.)
It has everything I love and expect from a Lauren Layne book – witty banter, endearing characters, and a sexy, sigh-worthy love story – reading anything by LL feels like my favorite kind of indulgence.
Andrew and Georgiana are neighbors and opposites. He's a buttoned-up, serious divorce attorney, and she is a carefree, social butterfly fortunate enough not to have to work. They meet each other while passing in their building's lobby in the early morning – he's going to work while she's just arriving home from a night on the town.
They're different personalities and opposing lifestyles cause them to rub each other the wrong way, but that friction ignites a sizzling chemistry that could burn down the building. Andrew is a pretty controlled guy, and he attempts to not resist Georgiana, but she's a force to be reckoned with and can't be ignored. She also nudges him along by pushing his buttons any opportunity she gets.
Andrew and Georgiana dance around each other throwing pointed (and hilarious) jabs, but they begin to find themselves seeking and enjoying each other's company. I love their dynamic. He is hilarious and charming as he tries to stay grumpy and impervious, and it's highly entertaining watching Georgiana unravel him. There's nothing sexier than seeing Andrew lose control.
Walk of Shame is exactly why Lauren Layne writes bestselling romances, and she'll always be an auto-buy for me as long as she's typing.

Book Info:

Publication: 4/18/17 | Loveswept | Love Unexpectedly #4
Sparks fly between a misunderstood New York socialite and a cynical divorce lawyer in this lively standalone rom-com from the USA Today bestselling author of Blurred Lines and Love Story.
Pampered heiress Georgianna Watkins has a party-girl image to maintain, but all the shopping and clubbing is starting to feel a little bit hollow—and a whole lot lonely. Though Georgie would never admit it, the highlights of her week are the mornings when she comes home at the same time as her uptight, workaholic neighbor is leaving to hit the gym and put in a long day at the office. Teasing him is the most fun Georgie's had in years—and the fuel for all her naughtiest daydreams.
Celebrity divorce attorney Andrew Mulroney doesn't have much time for women, especially spoiled tabloid princesses who spend more time on Page Six than at an actual job. Although Georgie's drop-dead gorgeous, she's also everything Andrew resents: the type of girl who inherited her penthouse instead of earning it. But after Andrew caps one of their predawn sparring sessions with a surprise kiss—a kiss that's caught on camera—all of Manhattan is gossiping about whether they're a real couple. And nobody's more surprised than Andrew to find that the answer just might be yes.