Twisted Truths by Rebecca Zanetti is the final book in the Blood Brothers trilogy. I recommend reading them in order, preferably after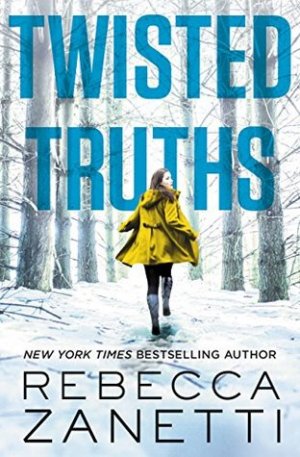 reading the Sin Brothers series as both series are tied together and characters from the Sin Brothers series intermingle with the characters in the Blood Brothers trilogy.
On a mission, Denver Jones meet Noni. He worked around her, protected her, then he was gone, leaving Noni brokenhearted. When the niece is taken by her gang-banger father
and Noni suspects he has evil intentions towards his daughter, she splashes Denver's name and picture all over the internet hoping to get in contact with him because she trusts he's the one man who can save her niece. What she doesn't realize, however, is that her actions are bringing another form of danger right to Denver's door.
For those not familiar with the series, Denver, Ryker, and Heath are brothers through DNA. They were created in test tubes with special abilities in order to become super soldiers. They took a blood oath to be brothers, and the three made their own little family. When they were children, Ryker and Heath killed Sheriff Cobb's brother in order to protect Denver. Sheriff Cobb's out for vengeance, working with Dr. Madison, the woman who created them. While he wants them dead, she wants them to create more super soldiers. The answer to why Dr. Madison was particularly interested in Denver is revealed in this book, and while I should have suspected the reasoning, I didn't put two and two together until it was almost revealed. It was an interesting twist.
I loved Noni. She was determined to do whatever it took to get her niece back. She refused to sit on the sidelines. Every time Denver would tell her to stay where it was safe, she refused. She was willing to put her life on the line to save the baby, and she wasn't going to let anyone get in her way.
Readers of the previous books who may have wondered why Denver didn't speak much will find out the reasoning in this book. He certainly comes out of his shell with Noni though. He's a
strong alpha male, taking charge and making things happen, but he also caves to Noni's desire to be part of the action, even if he doesn't like it. He's also willing to put his desire to go after Cobb and Madison on the backburner to get Noni's niece back to her.
Jory Gray from the Sin Brothers series pops up several times in this book, and the other Gray brothers make a brief appearance. Even though the two separate families aren't really related, both were created by Dr. Madison and therefore feel a familial bond. I loved how the author tied the two series together at the end of this book. It really was the perfect finale for not just the Blood Brothers, but for the Sin Brothers as well.
In traditional Rebecca Zanetti fashion, Twisted Truths is a non-stop, action packed suspense blended in with just the right amount of romance and steam. Readers will have a difficult time putting this one down. While I'm sad to see the series end, I'm looking forward to seeing what this author comes up with next.
Book Info:

Publication: November 14, 2017 | Forever | Blood Brothers #3
Noni is desperate. Her infant niece has been kidnapped, and the only person who can save her is a private detective with too many secrets to count–and more enemies than he can name. A man who walked away from Noni without any warning a year ago, a man who broke her heart. But with Talia's life on the line, Noni needs his help now more than ever–and this time, she won't take no for an answer . . .
The moment Denver Jones sees Noni, the memories come rushing back. The fire in her eyes. The determination in her voice. The danger of having her in his life. Denver had to push her away once, but now with vicious criminals threatening Noni and her niece, he'll do whatever it takes to protect them. But enemies from his past are circling, and they'll use anything–and anyone–to get to Denver.