Christmas Bride for the Boss by Kate Hardy: Sometimes the unexpected is wonderful thing and while you might not be where you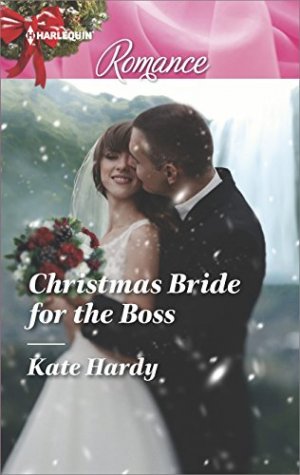 expected to be, you find you are where you need to be.
Sophie Firth figured that was the only reason she was a temporary nanny to a precious little girl. She would have never wished her childhood on anyone, not that it was bad, but it certainly wasn't ideal. Now she was starting to realize it was so that she could show another man how to love his daughter and maybe, just maybe open his heart to others as well.
Jamie Wallis still felt guilty. He truly believed the death of his wife was his fault. The guilt was staggering and most unfortunately was that his little girl didn't lose just her mother, but her father as well. Now when he is put in a nanny jam he doesn't have any one else to turn to other than Sophie.
Can Sophie prove to Jamie it's okay to move forward while forgiving himself? Can these three really be okay in the world living life?
Ms. Hardy has written a very sweet novel about forgiveness and breaking the molds we place ourselves in. She does great character development with all three of the leads. The only detriment is possibly at the end with the forgiveness of the twist. Or perhaps this reader is just a bit more jaded. Overall though this is a good heartstring novel that will have you embracing happiness in your heart.

Book Info:

Publication: December 1st 2017 | Harlequin Romance |
Wedding planner—to wife and mother?
Jamie Wallis needs a replacement nanny for his daughter—fast! So when a stunning young woman comes to him with a business proposal, he has a different proposition for her…
Securing Jamie's investment is essential, but Sophie Firth wasn't expecting to be asked to care for his daughter! However, once they meet, Sophie can't help adoring little Sienna. And, as Christmas approaches, Sophie quickly becomes part of the family—and Jamie can't resist letting her into his heart!