In Unclaimed (The Amoveo Legend #5) by Sara Humphreys, Dominic takes his role as Head Guardian to Richard, prince of the Amoveo tribe of shifters, extremely seriously. While he hopes he will find his destined mate before it's too late, he's not really sure he believes it will happen for him. Then veterinarian Tatiana shows up at the ranch to help with a strange illness affecting the prince's horses and Dominic is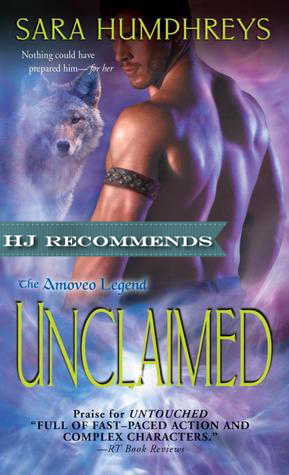 face-to-face with his mate. It's too bad that Tatiana doesn't seem to feel the same way. So it's up to him to win over the feisty shifter and convince her the Amoveo clan isn't as bad as she thinks.
"…but I do know my feelings for you are real. My body might be genetically programmed to respond to yours, but no one can tell my soul what to feel."
Tatiana has spent a long time trying to deny her heritage with the Amoveo tribe, never having been brought up as part of their world. True, her shifter abilities help her in her vet practice as she can connect with animal's emotions. But in Tatiana's eyes, the Amoveos are dangerous. She reluctantly agrees to help the tribe figure out why several of their horses have taken ill and in the process, realizes Dominic is the mate she's been dreading finding. Tatiana is not one to be told what to do and especially not who to love so she tries to avoid the brooding guard. Even though he is so damn sexy. But things on the ranch become dangerous and it just may force her to trust the people she's avoided for so long.
"I plan on spending the rest of my life finding out how many different ways I can piss you off."
"Is that so?" She giggled. "Why on earth do you want to fight and piss me off?"
"Are you kidding?" He wiggled his eyebrows. "For all the make-up sex."
Unclaimed is a wonderful paranormal romance set in a very imaginative world full of shifters and other creatures who don't always see eye-to-eye. Now this is book five in The Amoveo Legend series and this happens to be the first book I've read so far. I think it's definitely possible to read these as standalone novels, but keep in mind you will have a few spoilers here and there.
Sara Humphreys has created a very involved, complex plot that I found really easy to follow along. It was interesting to discover if the outside factions were the culprits behind the attacks on the clan or if there was a traitor amongst them. I won't spoil it for you, but I didn't really solve the mystery until the end…it's quite full of twists and turns. The characters were well thought out, interacting seamlessly, and the whole book has a nice balance of action, emotion and fun banter.
Our protagonists were intriguing all on their own. Dominic is obviously an alpha male who has a military background which he puts to good use protecting his people. He's extremely loyal–almost to a fault. But there is a tender, loving side beneath the muscled exterior and I loved it when he got all gooey eyed with the prince's baby daughter. So. Sweet. He was also willing to push aside his own feelings to do what was right for Tatiana, which screamed romance to me.
Tatiana herself was a giving person who was almost like a Dr Doolittle character, able to sense an animal's emotions. That being said, she also was a bit sassy and wouldn't take any of Dominic's crap or let him get away with being all caveman-like. Funny dialogue ensues, believe me! Last but not least, I have to admit I fell in love with little Cass the beagle. He added some comic relief and really sweet moments to the story.
I think paranormal romance fans will definitely enjoy Unclaimed. From the steamy love scenes, to the swoon-worthy relationship Dominic and Tatiana build, to the action-packed fight scenes, there's a little bit of something for everyone in this story.
Book Info:

Published December 3rd 2013 by Sourcebooks Casablanca | The Amoveo Legend #5
She Works Hard to be Normal…
Tatiana Winters loves the freedom of her life as a veterinarian in Oregon. It's only reluctantly that she agrees to help cure a mysterious illness among the horses on a Montana ranch—the ranch of the Amoveo Prince. Tatiana is no ordinary vet—she's a hybrid from the Timber Wolf Clan, but she wants nothing to do with the world of the Amoveo shifters.
But There's No Escaping Destiny…
Dominic Trejada serves as a Guardian, one of the elite protectors of the Prince's Montana ranch. As a dedicated Amoveo warrior, he is desperate to find his mate, and time is running out. He knows Tatiana is the one—but if he can't convince her, he may not be able to protect her from the evil that's rapidly closing in…