Under the Spotlight by Kate Willoughby peaked my interest based on the cover alone. In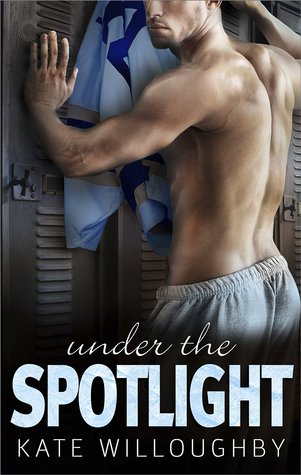 addition to the very attractive cover, the story revolves around a hockey player and an actress. Hockey is one of the very few sports I can tolerate, so this book moved up pretty high on to be read list. After reading it however, I am kicking myself for not putting it at the very top of the list. This book was great and I enjoyed every word and here's why…
The characters are caring, well-developed, and real. They have real thoughts, real feelings, and the dialogue never made me roll my eyes. That's a huge plus for me. Most books have a line or two that just make my eyes roll, but with this story, there was no need.
Joe Rutherford plays pro hockey and he's pretty damn good at it, but he's a veteran and needs to figure out what to do with himself when his playing days are over. He doesn't even want to think of anything besides hockey, but when stage actress Christine Caspary contacts him about a granting a wish for a sick little girl, he jumps at the chance. The thing is, he knows exactly who Christine is. He's watched her act before and even asked for an autograph, once. To say he was smitten with her is putting it lightly.
"Christine was that gorgeous overtime rebound you never saw coming, the one that came to you when you were wide open, the clock ticking down,"
Joe is not alone with his feelings. Christine immediately has strong feelings for Joe and a relationship forms. But both of them have careers that take them in different directions. Joe's career might be easing down, but Christine's is just getting started.
Both characters have a heart of gold. They both are really big into charities and both are genuinely good people. To say I was rooting for them is an understatement. When Christine gets a part on an upcoming new television show, their relationship will be tested and only a strong bond and real love could survive.
I haven't read the previous titles in this series, but they are now on my tbr list. Readers who love their sports and romance to mix, will definitely want to check this book out. Highly recommend.
Book Info:

Publication: December 14th, 2015 | Carina Press | In the Zone #4
Stage actress Christine Caspary couldn't care less about hockey, but when she first sees Joe Rutherford playing in a Barracudas game her mind goes to all sorts of dirty places. By happy chance, her work with Grant A Wish gives her an opportunity to meet him in the flesh.
Right winger Joe Rutherford saw Christine perform when the team went to see Chicago and was so taken with her, he secretly saw the show a second time, alone. When the gorgeous actress with spectacular legs contacts him out of the blue asking for a favor, it's a no-brainer.
Their chemistry is off the charts. Things heat up quickly and they can't keep their hands off each other. Soon they're hooking up whenever their busy schedules allow and having hot phone sex every night at midnight when they don't. But Joe's time in the hockey spotlight is fading, just as Christine's star begins to rise. When she gets her big break into a TV career, how will Joe take to being the arm candy for a change?