In Valdez's Bartered Bride by Rachael Thomas, Lydia Carter-Wilson will do anything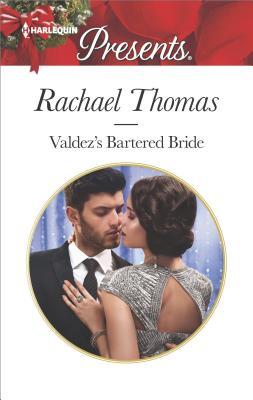 not to be forced into marrying magnate Raul Valdez. However, finding his half-brother isn't going to be easy, especially when she doesn't have much information to go on. Still, she's not about to give up, not if it means she'll have to marry a man she considers her enemy. Will Lydia be able to avoid the terms Raul has given her in order to pay her father's debts, or will this pair get their happy ever after due to what starts out as Raul being determined to blackmail her?
"I'll make a deal with you, Mr Valdez. If I find this person, all the debts will be cleared without the need for marriage."
"That's a massive charge for such a service when I could hire an agency, as you say."
"But would you have the confidentiality you require?" She waited, hardly able to breathe, the anticipation immense. Had she actually managed to dig her way out of the mess her father had landed her in?
"It's still a high price, Miss Carter-Wilson. Are you sure you can deliver?"
What an incredible enemy to lovers trope encompassing story Ms. Thomas has penned in this book where both the main characters struggle to deal with the fact that they may have to get married when both have sworn off forever after. The way this story started had me sympathizing with the hero, as the terms of his father's will are unfair in the way he either has to get married to Lydia or find the half-brother he's never met. However, it was from the moment the hero and heroine come face-to-face for the first time in this story that was beguiling, fast-paced and had me reading quickly, determined to discover what Lydia would decide to do. Would she let her father crash and burn and need to declare bankruptcy? Would she have to marry Raul to settle her father's debts? Would she be able to find Raul's half-brother and save herself from having to marry Raul?
As for the dialogue, it was well-written, compelling and a wonderful combination of intense moments and playful banter that had me charmed by both the main characters, as Lydia isn't afraid to antagonize the hero and stand up for herself when it comes to the hero's blackmail. Will she win the battle? Moreover, the main characters were absolutely engrossing and I loved every moment they conversed, because they just made me want to discover more about their pasts. Since it seems that Raul didn't have a very high opinion of Lydia in the past and still doesn't, yet he couldn't be more wrong about her. Really, she's resilient, courageous and I liked how determined she was to protect the only family she's ever been able to count on, which is her grandma. I also liked how she challenged the hero and proved him wrong when it came to his opinion of her, because she's done very well for herself.
"You don't trust me at all, do you?"
"I never trust anyone, Lydia. Trust is like love – an empty word that people pretend to believe in."
"Do you really believe that?" She couldn't believe the venom in his words.
"I do, but I have no wish to discuss it."
While the hero, he's confident, tough to deal with, is always a man used to getting what he wants and I liked that he was willing to give the heroine a chance to find his half-brother. I also liked how protective he is of his mother, especially with everything that's going on with his father's will. Will Raul be able to keep the information he's learnt from his father's will from her? Yet, what I liked most of all about the hero Is that he was willing to do whatever it takes to honor his father's will, even if it meant marrying Lydia and her knowing that he'll never trust her no matter what she does to prove to him that he can indeed trust her.
She smiled at him. "Sounds wonderful."
"It will be. We can spend time alone and celebrate the start of a new year with our own fireworks." The spark of mischief danced in his eyes.
"You are incorrigible, Raul Valdez, but I love you so very much."
Overall, Ms. Thomas has delivered an absolutely fantastic read in this book where the chemistry between this couple was off-the-charts because of the fact that they're enemies; the romance was delightful and showed that even the most cynical person on love and happiness can fall when they meet the right person; and the ending had me loving how far Raul was willing to go to win back Lydia once he realized he's in love with her. His words are precious and special and show her how much she means to him. So much so that he's not willing to let her get away until she understands that she's the only woman for him. However, it was the epilogue that wrapped this story up nicely, because of how far Lydia and Raul have come in their relationship and how it shows how good they are together.
I would recommend Valdez's Bartered Bride by Rachael Thomas, if you enjoy the blackmail trope, the enemy to lovers trope, or books by authors Louise Fuller, Maya Blake, Annie West and Michelle Smart.
Book Info:

Publication: October 17th, 2017 | Harlequin Presents |
Blackmailed into marriage…by Christmas!
Genealogist Lydia Carter-Wilson is horrified by the debts her father has run up in her name. Then magnate Raul Valdez approaches her with an outrageous proposition. If she helps him claim his inheritance, he'll pay off her debts and save her tarnished reputation. But there's a catch. If she fails, she will marry Raul on Christmas Eve! No matter their instant and electrifying attraction, Lydia knows Raul's proposal amounts to blackmail. Yet faced with an impossible choice–risking ruin or becoming Raul's bartered bride–Lydia finds she cannot resist her desire to make a deal with the dark-hearted billionaire!