In Wait for Me by Sarah Mayberry, after her marriage crumbled rather publicly, Beth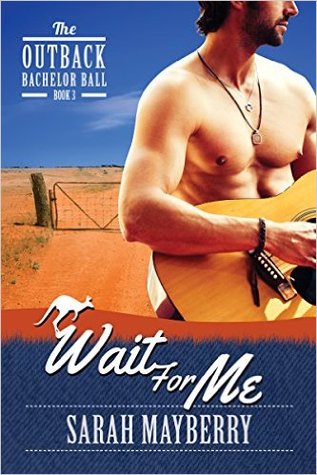 Walker was left devastated and finding it hard to cope with the media attention. When she declares her need to return to Australia, her friends agree it's the best thing for her. Especially when it'll give them the chance to see each other again, and have some fun when one of them suggests going to a Bachelor and Spinster Ball.
"I've been thinking about you," he said, his voice low and slightly rough. "Ever since I heard."
She laughed, the sound bitter and sharp. "You're not the only one. At one stage the Enquirer was offering up to $20,000 for a photograph of me post split."
Ever since Jonah Masters met Beth years ago, he's wished there could be something between them. Yet, it wasn't possible as she was married. Now though, with her husband no longer in the picture, Jonah is eager to have Beth any way he can until she's ready for more. The question is – will she ever be ready, considering he has the same career as her ex? A career that attracted her ex plenty of attention, and allowed him to betray their marriage vows.
What a fantastic third and final book Ms. Mayberry has penned, for The Outback Bachelor Ball series, Comprising a heroine determined to have fun by being spontaneous; and a hero determined to earn her trust. To prove that he's one of the good guys and deserves a chance to win her heart. It was fast-paced and engaging, as coming face-to-face with Jonah again is a painful reminder of her past, a past that Beth desperately needs a fresh start from.
The dialogue was intense due to Beth's back story, and I couldn't help but empathize with her. The moment where she confesses to Jonah about her parents and why she wanted her marriage to be different than theirs, brought tears to my eyes. Because it seemed she'd never had someone love her unconditionally until she met her best friends – Ellie and Jen. However, there was also some really playful banter between Jonah and Beth, which made me grin. The hero was a blessing in disguise, as he helped Beth realize that she needed to stop blaming herself for her failed marriage.
"Sort of a release, too?" he offered blandly.
A wry grin stole across her face and she gave his shoulder her shove. "Are you fishing for compliments? Is that what this is?"
"No."
"Are you sure? I wouldn't want you to walk away feeling belittled or slighted in anyway."
I loved both characters from the moment they were introduced into the story. In the beginning, Beth seems extremely vulnerable. But being with Jonah brings out the best in her, even if he does stir up bad memories at first. While Jonah, he's benevolent and honorable. The way he lends Beth a sympathetic shoulder to cry on if she wants, or how he entices her to accept his invitations to join him so they can spend time together, made for wonderful reading. Especially the latter as it made Beth impulsive, and determined to take a chance on her future happiness.
There was chemistry between them years earlier, and now coming face-to-face again, it seems even stronger. And their intense chemistry steams up the pages in some very fiery and passionate sex scenes. The first one is just right where it was in the story as the heroine needs Jonah so much. She needs him to show her that she's still capable, of attracting a man's attention and keeping it.
Overall, Wait for Me by Sarah Mayberry wrapped up this series perfectly, and I loved how it ended because if anyone deserved to live happily ever after it was Beth. I would recommend this novella, if you're a fan of second chance romances. And would also recommend reading Win Me by Joan Kilby and Woo Me by Karina Bliss before this book, although each book can be read as a stand-alone.
Book Info:

Publication: October 20th, 2015 | Sarah Mayberry | The Outback Bachelor Ball #3
Sometimes it pays to wait for the things you want, even if it's the hardest thing you ever do.
Beth Walker hasn't just been burned by her philandering country music star ex, she's been barbecued to a crisp. Coming home to Australia and into the arms of her best friends is exactly the balm she needs. Cocktails and laughter at an Outback Bachelor and Spinster Ball seem like the perfect distraction. Until she bumps into the last person she wants seeing her heartsick and pathetic — Jonah Masters, rising country music star and witness to the failure of her marriage. If only she'd met Jonah first. Now she's broken and won't ask him to wait until she heals.
Jonah can't believe he and Beth are finally standing under the same stars. The connection they shared on the road years ago has haunted him but he wouldn't pursue a married woman. Now she's free, and Jonah can't refuse the one night Beth impulsively offers. Can he convince the woman he's always loved that he'll wait — however long it takes — for her trust?