In Wedding Date Rescue (Fire & Sparks #1) by Sonya Weiss, being left at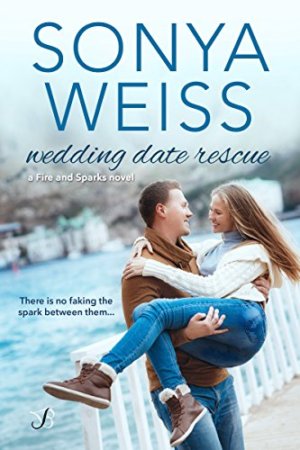 the altar is a horrible feeling, but for Casey Bradford, it could spell the end of her business as a matchmaker. Advised to find a man and pretend they're happy in a relationship, Casey turns to the one person that she believes could help her and be able to pull of the happy part. Except her brother's best friend, Kent Wakefield, is determined to keep her at arm's length, until he finds he needs her too. No way can he attend his cousin's wedding without a date. Will they get the happy ever after both their families wish for them, or will Kent allow the past to stop him from being happy?
Ignoring the strange new feelings rushing through her, she blurted out, "You're the one. It's perfect."
Kent squinted against the sun's glare as the bucket slowly lowered. "What?"
"You can be my new groom. Or fiancé. I'll even settle for boyfriend."
If you've never read a book by Ms. Weiss before, I suggest beginning with this story, because it is a fantastic start to one of her series. Within it, there's an incredible array of characters in the two main characters families, yet it was the hero and heroine's moms that had me smiling throughout with how pleased they are that Kent and Casey are a couple. However, what I loved most about this book is the moment the hero and heroine came face-to-face for the first time and Cassie being embarrassed that Kent is the one coming to her rescue. Why couldn't it be anyone else?
"Don't you dare say you have to get help. I can't have you calling for reinforcements," she said. "Do you know the jokes I would have to endure?" She motioned for his hand. "Put it there. Under my butt and give it a good push."
"You want me to—" He looked uncertain.
"Put your hands on my ass!" That particular body part was going numb, and she didn't want to perform clenches to wake it up and have Kent notice that.
Again with the grin. "You wanna buy me dinner first?"
Both the main characters are riveting due to their back stories and their growing relationship. Ever since an tragic incident on the job, Kent has had so much guilt and it made me empathize with what he's been through. Not only because of what happened, but because of what his girlfriend at the time did to him. Somehow, she's still affecting him in a way when it comes to relationships. How is he supposed to get through the wedding knowing she'll be there? What will they say when they finally come-to-face after what she did to him? Also, I liked how loyal and kind Kent is and how determined he was to help the heroine, which is proven by how convincing they are as a couple to the people they need to be.
While Casey, she had a big crush on Kent when she was younger. Yet, now that she's all grown up, knows he's emotionally unavailable and unwilling to get involved with another woman long term, he's the perfect choice to be her fake fiancé. Certainly, I could understand why she would do everything she could to keep her business afloat. It's an important venture to her and she's had a lot of success. So, why were people so quick to judge her just because her own relationship fell apart? But what I liked most of all is how she shook up Kent's world and made him realize that forever after isn't necessarily a bad thing. That just because the last serious relationship he was in didn't work out; it doesn't mean his next one wouldn't either.
"Those photos…that's our history." He swallowed. "They spell out the story of us. From the first time I reached for you as a baby to this moment where I don't want to let you go." He leaned back on his haunches to search her face. "Please tell me I'm not too late."
Overall, Ms. Weiss delivered a wonderfully sweet and entertaining read in this story that had me crying happy tears at the end because of what Kent does to win Casey back. How could she not want to take him back after what he does? However, it was the epilogue that wrapped this story up nicely with what the hero and heroine ask of the people important to them, and definitely sets things in motion for the next book with the tension between Josie, Casey's best friend and Lincoln, the heroine's brother. I would recommend Wedding Date Rescue by Sonya Weiss, if you enjoy the fake relationship trope, the brother's best friend trope, a story encompassing a couple that are meant to be or if you enjoy books by authors Jennifer Shirk, Coleen Kwan or Victoria James.
Book Info:

Publication: February 27th, 2017 | Entangled Publishing | Fire and Sparks #1
As a Firefighter, Kent Wakefield has been burned before, and not just by fire. So when Casey Bradford, his best friend's off-limits, gorgeous little sister, asks him to be her fake boyfriend, he flat out refuses. He doesn't do relationships, real or otherwise. But when his well-meaning, marriage-pushing mother corners him about his cousin's wedding, he panics and tells her he has a date.
After being left at the altar, Casey is out of options. She needs a boyfriend ASAP or she can kiss her dreams good-bye. Who better than her brother's emotionally-unavailable best friend, Kent. She may have nursed a childhood crush, but this arrangement will be purely platonic…that is until he kisses her and suddenly it gets a lot harder to remember it's all pretend.