In When We Met (Fool's Gold #13) by Susan Mallery, With her successful business now located in Fool's Gold, Taryn Crawford is getting used to small town life, where everyone is friendly and says hello. Nothing like the hustle and bustle of Los Angeles. She had noticed tough guy Angel Whittaker in town when she scoped out the location last Fall and has had a difficult time forgetting him. Taryn soon finds out the attraction is mutual when he asks her out. But he's intent on keeping things casual and taking his time, which is fine by her. Taryn isn't looking for a relationship and is more than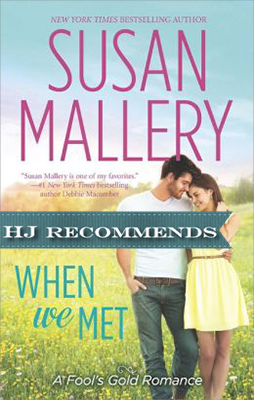 willing to have a fling with Angel. Unfortunately, everything and everyone seems to be pushing them together as a couple. Taryn doesn't trust easily. And she's not sure even Angel can make her give up her heart.
'Angel was different in every way possible. When he looked at her with those cool gray eyes, she had no idea what he was thinking. That was kind of fun. She just hoped it didn't mean he was a serial killer.'
Former sniper Angel Whittaker has had Taryn in his sights since her first trip to town months ago. Now is his chance to have some fun with the sassy PR exec. He likes to be challenged and knows Taryn is just the woman to keep him in line with her witty comebacks. But Angel's not looking for a commitment. Even when he finds himself looking forward to their time together and hating to leave her after a night of passion. After the loss he suffered six years ago, he told himself he'd never trust himself to fully love someone again. Somehow, though, Taryn may be just the one to finally break down those walls.
She stared into his gray eyes. "You don't have to worry. I'm not looking for happily ever after," she told him.
"Why not?"
"Because I don't believe it's possible."
"Love? Or love that lasts?"
"Both."
He curled his fingers around hers. "You're wrong. They're out there."
When We Met is a story I've been waiting for so I could get to know both Taryn and Angel better. They seemed like intriguing characters in the snippets we've seen in other books and now that I've read their story, there's even more to them than meets the eye.
"Of course I want you, Taryn. I'm breathing, aren't I? Because it would take being dead to not want you."
I know I say this every time I write a Fool's Gold review, but there is just something special in Susan Mallery's writing and characters that brings me back, book after book. It's my literary equivalent of comfort food. The town kind of feels like home at this point, considering we're thirteen novels in. But the characters still seem fresh and vibrant, never losing their sense of humor or charm. The mayor is still her meddling self, Eddie and Gladys are looking for half-naked guys to drool over (lol), and the festivals keep things upbeat every month. Thankfully, we still get glimpses into the other couples lives as well, keeping us current on what's going on with them all.
Angel and Taryn were an interesting couple. They both had their reasons for not wanting to get involved romantically, although their hearts didn't listen to them very well. With traumatic events haunting them both that involved past loved ones & family, I could wholeheartedly understand their aversion to relationships. I just thought it was so funny/cute that everyone was intimidated by Angel thanks to his background as a sniper and the scar on his neck. Everyone but fashionista Taryn, that is. She was so feisty and stood up to him immediately. I don't see how he couldn't fall for her, they were so well suited for each other. And I have to say, even though I could kind of see where this was headed as far as the plot was concerned, it never ceases to amaze me how sucked into the love and happiness I get with every Fool's Gold novel. Yes…I am a sap when it comes to HEA's!
Don't let the fact that this is book thirteen in the series scare you away from this terrific romance. It can easily be read as a standalone. But I think you'll get hooked on these unique characters and make more than one trip to Fool's Gold.
Book Info:

Published April 29th 2014 by Harlequin HQN
back to Fool's Gold, where a newcomer to town might finally meet the man she never knew she needed…
Angel Whittaker earned his scars the hard way, but the scars that can't be seen are the ones that haunt him the most. Since he moved to Fool's Gold, California, he's cobbled together a life for himself as a bodyguard trainer. If he's not exactly happy, at least his heart is safe.
Working with pro-football superstars taught tough-talking PR woman Taryn Crawford one thing—she can go toe to toe with any man. But then dark, dangerous former Special Ops Angel targets her for seduction…and challenges her to resist his tempting kisses.
Even in four-inch heels, Taryn never backs down. Unless, somehow, Angel can convince her that surrender might feel even better than victory.