In Why Not Tonight (Happily Inc. #3) by Susan Mallery, Struggling artist Natalie Kaleta knows she has a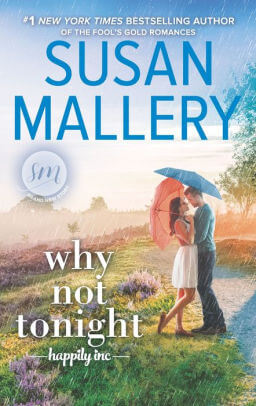 great gig working as an office manager at the local art gallery in Happily Inc. And she usually has a lot of fun keeping the main artists, the Mitchell brothers of Mathias, Ronan and Nick, on track. But schlepping up a mountain in a monsoon is going above and beyond, in Natalie's mind. Especially as it's to check in on broody artist Ronan who has a habit of sequestering himself in his mountain home. One mudslide, one totaled vehicle, and one trek through the rain and mud later, and Natalie finds herself stuck at Ronan's house for a few days, unable to get through the roads back to town. Those couple of days change everything, though. Happily attracted to the brilliant artist, she embarks on what she expects to be a casual fling, only to realize that no matter how different their views on life and family, Natalie is completely over the moon for Ronan.
'They were too different in spirit for this to last, but for now…it was pure magic.'
Ronan isn't sure anything could have shocked him more than when Natalie showed up on his doorstep, drenched and covered in mud. But after a few days with her, he figures out that he could be even more surprised, when he figures out that he's absolutely charmed by her. And wholeheartedly attracted to everything about her. Which presents a problem. Because Ronan is still struggling to deal with his own personal demons after having found out his childhood was a lie. How can he possibly bring Natalie, who is so full of vitality and sunshine, into his complicated life? Somehow, though, she helps Ronan see that he doesn't have to be alone in his thoughts and helps him sort through his twisted emotions–all while having the wildest, most fun time of his life. Afraid that he'll eventually fall back on old ways and push Natalie away when things get too real again, Ronan will have to dig deep and figure out if he has what it takes to be what she needs.
'There was just something about the way she pushed up her glasses that made him want to rip off her clothes every time she did it.'
Utterly charming and ridiculously fun, Why Not Tonight was another lovely trek back to Happily Inc with a whole new romance to enjoy. Susan Mallery also caught us up with previous characters and gave us some interesting lead ins for upcoming books. (Yay!!)
"You're my miracle, Natalie… I have no idea why you'd bother to love someone like me but I'm going to accept the gift and hope you never change your mind."
I've said it before and I'm sure I'll say it many times again, but Susan Mallery's small town romances are one of my literary happy places. There's just something so realistic about the quirky characters she writes and the lively dialogue that makes me laugh. That was definitely true of Natalie and Ronan. Oh my goodness but they were a riot together. Personality-wise they seemed like opposites in some ways, as she was outgoing and bubbly and kind of said whatever was on her mind. Whereas he was a broody guy who closed himself off from the world–including his family–up in his gorgeous mountain house. But it was one of those situations where when Ronan started to reveal more of his true nature, which was sexy and almost mischievous at times, it became clear he was more like Natalie than she imagined.
My only tiny sticking point was that Ronan was SO stubborn. I got that his whole world changed when he found out he wasn't Mathias's twin, which gave him some soul searching to do. But it dragged on for so long, all the way to the final pages of this book, even though this had been an issue since the end of the Fool's Gold series. It did get resolved, though! And it was done with Ronan and Natalie taking a tear-jerking field trip back to Fool's Gold, which worked out in a wonderful way.
Aside from Natalie and Ronan's sensual yet playful romance, two other things captured my attention: the fact that Natalie was described as a fabulously curvy woman who wore glasses, and how Mallery captures female friendships so perfectly. I enjoyed that Natalie was self-assured and owned her curvaceous figure and the fact that she was healthy but not a size two. (Not that there's anything wrong with being a size two) It was just nice that Mallery included Natalie's thoughts on her size and that she specifically created a female character who rocked some glasses. Loved that! I also had fun catching up with Pallas, Carol, Silver, Wynn and the rest of the crew. They each had new things going on in their lives, which kept things interesting and will make for some fun updates in future books. There were some ups and downs for the bunch, making it seem more genuine, but for the most part, everything was left at a good place for Natalie and her friends.
A heartfelt story about family, friendship and love–written with Susan Mallery's trademark warmth–Why Not Tonight was an absolute pleasure to read. I think fans will embrace Ronan and Natalie and cheer them on right from the start.
Book Info:

Publication: September 18th 2018 | HQN Books | Happily Inc. #3
Susan Mallery welcomes you to Happily Inc, where true love isn't just for fairy tales…
Natalie Kaleta will do anything for the artists at her gallery, including risk life, limb and the effect of humidity on her naturally curly hair. Braving a downpour to check on reclusive Ronan Mitchell, Natalie gets stranded by a mudslide at his mountain home, where the brooding glass artist reveals his playful side, sending her inconvenient crush from under-the-radar to over-the-top.
After a secret tore apart his family and made him question his sense of self, Ronan fled his hometown for Happily Inc, but the sunny small town can't fix his damaged heart. He won't give in to his attraction for beautiful, perpetually cheerful Natalie. She's untouched by darkness—or so he thinks.
Natalie knows that when a heart goes through the flame, it comes out stronger. Life may not be a fairy tale, but sometimes dreams do come true. Why not this one? Why not tonight?