In Wicked Abyss (Immortals After Dark #18)by Kresley Cole, In all the thousands of years that have passed since Abyssian "Sian"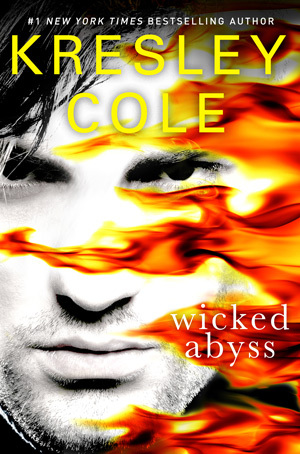 Infernas, current king of hell, had his heart torn to shreds by a fey princess, you would think that he'd have let go of his anger. But the years have only served to fuel his need for vengeance. And with the news of her reappearance, Sian puts a bounty out for her capture in hopes he'll soon have Lila in hell to make her life miserable. But he discovers this reincarnation of his former betrayer is quite different. She's still beautiful and intelligent, but Lila is now a perfect match for his competitive, tricky nature. And her wonderment of his realm leaves Sian perplexed. Did Fate bring her back for him to finally turn the tables on her, or was it to provide him with a queen who fits him in every respect?
Abyssian Infernas had waited ten thousand two hundred and thirty-four years, three months, and seventeen days for his female to return to him.
He met her gaze. "You were worth the wait."
Being a princess can bring on a multitude of problems for a woman in any realm. But especially so as Calliope "Lila" Barbot is captured and taken to hell by a beastly man claiming to have been wronged by her millennia ago. If she's been reincarnated, she doesn't remember her previous life. Although Lila can understand why someone would want to torment her exasperating captor. Escaping Sian's castle proves problematic. So spying on him in order to help her fey family in Sylvan is her next goal. But falling for him slowly, day after day, as they match wits and explore hell was not in the plans. And with the secrets Lila is keeping, as well as the resentment her beast still feels, she's not sure how things will ever work out in their favor.
"I can't keep paying for my previous life. How are we going to work on the issues we have now if you can't get over the past? You'll never give me a fair chance."
With Wicked Abyss, Kresley Cole once again created a mismatched couple that shouldn't work but totally did. I mean, a demon king and a fey princess? Crazy, right? Actually, no. It was brilliantly done and even played off of a Beauty and the Beast theme, infused with KC's twisted humor to accompany it perfectly.
'King Abyssian Infernas emanated pure power.
Saetth wanted her to spy? Her report: We're about to get our asses kicked. Seek terms.'
I'll start off by saying that I know a lot of IAD fans were not impressed with the couple chosen for Wicked Abyss. We all have our favorite characters who we would love to see get their HEA. But I think by now readers should trust that Kresley Cole has a plan that will allow all of us to get the resolutions we crave while telling a complex story involving a huge cast of characters. I have a feeling she *will* get to readers' favorites before all is said and done with this series.
As far as our couple this time, I really had to laugh at Sian and Lila's antics. I'll admit to getting frustrated with them towards the end over choices they made, but the majority of the time they had the most comical, antagonistic conversations you could imagine. And Lila and Sian's physical attraction only added to the fun dialogue. They were both considered nobility so they had the ego and attitude that came along with it. There was a also a lively sense of "one-upmanship" between them as they battled wits.
I think what I loved most was that Lila wasn't afraid of her beast–boy was she feisty!–and that Sian felt more calm and centered when he was around his beauty. His past with her was absolutely heartbreaking and I had to give Sian credit for even trying to believe in Lila again. But they had so much love for each other, in between pulling pranks and lusting after each other, that watching them finally give in to their emotions felt oh so right. I ended up adoring them together as I have all of the other couples in the IAD books.
Our favorite immortals were still hurtling toward the Accession at a break-neck pace in Wicked Abyss, with tricksy Nix manipulating things behind the scenes. I was so glad to get my fix of all things IAD with its complicated, sexy characters and fascinating storyline proving to be just as relevant now at book eighteen.

Book Info:

Publication: Published April 25th 2017 | Gallery Books | Immortals After Dark #18
This fairy tale doesn't end with a kiss… A spellbinding Immortals After Dark tale from #1 New York Times bestselling author Kresley Cole!
The terrifying king of hell…
As a boy, Abyssian "Sian" Infernas had his heart shattered by a treacherous fey beauty who died before he could exact vengeance. Millennia later, a curse has transformed him into a demonic monster—just as she's been reincarnated. Sian captures the delicate but bold female, forcing her back to hell.
Meets his match.
Princess Calliope "Lila" Barbot's people have hated and feared Abyssian and his alliance of monsters for aeons. When the beastly demon imprisons her in his mystical castle, vowing revenge for betrayals she can't remember, Lila makes her own vow: to bring down the wicked beast for good.
Can two adversaries share one happily-ever-after?
As Calliope turns hell inside out, the all-powerful Sian finds himself defenseless against his feelings for her. In turn, Lila reluctantly responds to the beast's cleverness and gruff vulnerability. But when truths from a far distant past are revealed, can their tenuous bond withstand ages of deceit, a curse, and a looming supernatural war?