Behind the Curtain by Beth Kery: Asher is smart, sexy, confident, determined, and stubborn. He's grown up in a privileged family with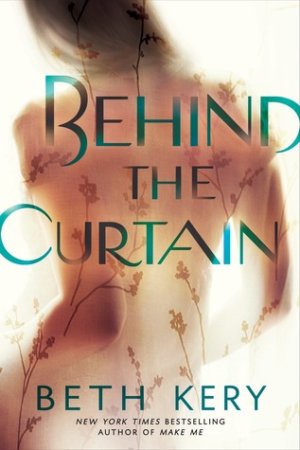 the weight of their expectations that he follow in his father's footsteps by eventually running the family media empire. But Asher has always been his own man and followed his own path in journalism. He is back in Chicago as a short break before he starts his new job in London.
He plans a weekend with his best friends to catch up after years spent traveling as a reporter. When they take him to see the hottest act in Chicago, he is blown away to recognize the sexy, sultry siren as none other than the one girl who got away. While Laila is performing under a stage name and behind a curtain to mask her identity, he would know her anywhere.
Laila is Moroccan-American and has tried to find her path while still maintaining the close family relationships that are so important to her. Writing and performing her own music is her passion, but maintaining her privacy helps her to forge a path between her traditional upbringing and her own needs.
"I couldn't do it. I could never be that brave," she said. He couldn't have heard her near-whisper if he weren't just inches away from her moving mouth.
"Sure you could," he insisted.
"You don't understand," she murmured.
"Maybe not. I'd like to try though."
Eight years ago, Asher and Laila met and found an instant connection despite their very different cultures and backgrounds. They knew that neither family would accept the relationship, but they couldn't walk away from each other either. Their summer fling was short, intense, and brutal when it ended. Neither expected to ever have their paths cross again. While both have matured, they still have to face some of the same issues that originally drove them apart.
"Do you think I don't know that?" he asked, his mouth going hard. "This isn't about wisdom. I thought you got that eight years ago. This is about us, and what happens when we're together. This is about the way you make me feel. I come alive when I'm with you. Sometimes I wish it weren't true, but that doesn't change the fact that it is."
Behind the Curtain is a sexy, angst-fueled second chance romance. Beth Kery created realistic conflict around their respective cultures and familial expectations. Ms. Kery great cast of characters in their friends. Fans of Ann Marie Walker, Amy K. Rogers, and Heidi Joy Tretheway will enjoy Behind the Curtain.

Book Info:

Publication: May 2nd 2017 | Berkley |
Cultures clash and passion ignites in the novel that will leave you begging for more—from the bestselling author of The Affair and Looking Inside.
There's something about this woman…
On a break between overseas jobs, journalist Asher Gaites returns to his hometown of Chicago—and allows his friends to persuade him to check out a hot new singer. At a downtown jazz club, he's soon transfixed by the lyrical voice and sensuous body of a woman who performs behind a thin, shimmering veil…
…That could bring a man to his knees.
The veil gives Moroccan American Laila Barek the anonymity she needs since she has never been able to reconcile her family's values with her passion for music. But one man is inexplicably drawn to her. And when Asher confronts her on a subway platform after a gig, he's shocked to recognize the woman who walked away from him nine years ago…
Laila has never been able to forget the touch, the feel, the taste of Asher. And despite the doubt and fear that wind their way into their lives, they must trust the heat of their desire to burn down the walls the world has placed between them…