Reunited with the P.I. by Anna J. Stewart finds assistant district attorney Simone Armstrong turning to the last person she expected to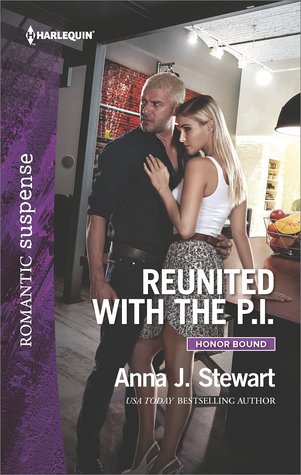 need to find her missing witness–her ex-husband, Vince Sutton. A few years earlier, the district attorney's office used her suggestions to put his brother away with a ten year sentence. In return, he walked away from his marriage. She knows he's not going to be happy to see her, but she doesn't trust anyone in her office to help her.
Vince, no longer a private investigator, doesn't want to help Simone. He simply wants to run his bar. When she dangles the one thing he wants more than anything in front of him–the promise she would look into his brother's case to try to get him released–he has no choice but to agree to help.
The more time the pair spends together, the more they reevaluate their previous relationship while contemplate reigniting their love for one another in the midst of a dangerous situation. Simone's witness is missing, there's a suspicious man hanging around the district attorney and trying to get involved in her case, and nothing and no one is quite as they seem.
In addition to dealing with case, Simone and her friends, Eden and Allie, are also dealing with being stalked by the murderer who killed their friend when they were nine years old. I haven't read the previous book in the series, but the way it was written made me feel like this stalking began in the previous book. It's not resolved in this book, either, and there were hints that it's going to carry over into the next book.
This book grabs you from the beginning and takes you for quite the ride. There's plenty of mystery and suspense as the case unfolds and Vince and Simone, along with the help of her friends, unravel the mystery to reveal the truth. It keeps readers on their toes and guessing right along with the characters.
If you're looking for a good romantic suspense, you should give this one a read. You won't be disappointed.

Book Info:

Publication: May 9, 2017 | Harlequin Romantic Suspense | Honor Bound #2
Exactly why should P.I. Vince Sutton take his ex-wife's case? Because she, assistant district attorney Simone Armstrong, put his brother in jail? Because the ambitious spitfire still drives him crazy? No, he'll take it because -The Avenging Angel- makes him a deal he can't refuse. Sparks fly when Vince works all-too-closely with Simone to locate her missing key witness…but in the process, they are drawn into a cold case. As much as he tries, Vince can't deny that he's never gotten over beautiful Simone, but can he admit his feelings to her–and himself? And can he save her from the danger that's heading their way?