In Wickedly Spirited (Baba Yaga #3.5) by Deborah Blake, An orphan and runaway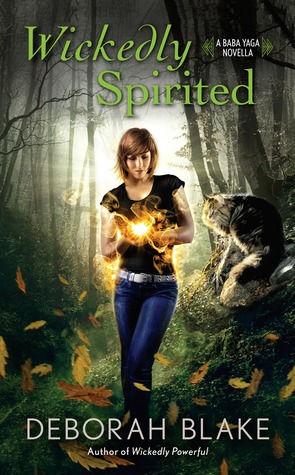 who is now figuring out her place in the world, Jazz will always count the day Bella rescued her as the luckiest of her life. She knew for years that she was different from other kids and believed that there was magic in the world but she never thought she would find out that she was a powerful witch. Or that Bella, a Baba Yaga, would take Jazz under her care and teach her how to hone her magic and use it to help others.
She liked to think she was pretty tough, but walking through flames, even ones that she knew in theory wouldn't burn her, might be pushing her limits.
Koshka gave her a smug look and gestured with one pointy-clawed foot at himself. "You're forgetting something, kiddo. Dragon. Fireproof. We've got that part covered."
Duh. "Oh, right. Well, then, lead on, dragon dude."
Jazz knows the first thing she wants to do as a new Baba Yaga: help the Riders, a group of warriors who assist the Baba Yaga's, get back what was so cruelly taken from them. It hurts to think that Gregori, Alexei, and Mikhail are suffering and that no one is doing anything to help them. So Jazz takes it upon herself to create a spell that will hopefully make the Riders as they once were. With some help from her partner in crime, Koshka, Bella's dragon who disguises himself as a Norwegian Forest cat, they set off on a journey that doesn't quite end the way Jazz was expecting it to.
'The looks in their eyes still haunted her. She barely knew them, and still, after seeing them that day, she would have done anything to have been able to erase the pain that seared them all to their very souls.'
A poignant and entertaining novella, Wickedly Spirited gave us Baba Yaga fans more insight into teenager Jazz's powers and followed along as she tried to assist the noble Riders with her limited experience as a witch.
'Bella had been right that sometimes magic couldn't fix everything. But if you had enough magic and enough love to go with it, miracles might happen.'
This short story takes place after Wickedly Powerful and Dangerously Charming but doesn't give a lot of detail into what happened in those books (although it does include some spoilers) so it would probably be best to have read them first before diving into this novella. Having said that, fans of the series and its spinoff will have fun with Jazz and Koshka–Bella's Chudo-Yudo–on their adventure, including a foray into the Otherworld. They were quite the duo, both snarky and a bit sneaky, but yet wanting to do something wonderful for the Riders. I was hoping we'd get a glimpse of Mikhail, Gregori, and Alexei but, alas, we didn't. So we'll have to wait for the next installment in the Broken Riders series, Dangerously Divine, which is coming out at the end of 2017.
I loved getting to know more about Jazz here. She was a typical teen in many ways, with a touch of arrogance, thinking she knew better than some adults. But what I really liked was how caring she was. She hadn't known the Riders for very long but she felt it was her responsibility as a Baba Yaga-in-training to try to help them get back what they lost. It seemed like a very honorable thing for a sixteen-year-old to do. Between that and how powerful she proved to be, I think Jazz will be a big part of future books and I hope she might possibly get her own full-length novel (a romance perhaps?) when the time is right.
A brief interlude, but enough to tide us over until the next book comes out, Wickedly Spirited had all the right elements to make this a pleasing addition to this continuing story arc.

Book Info:

Publication: September 19th | InterMix | Baba Yaga #3.5
An all-new Baba Yaga novella from Deborah Blake!
Jazz, the powerfully magical teen first introduced in Wickedly Powerful, is now being trained as a Baba Yaga–and she's determined to free the Broken Riders herself.