In His Majesty's Temporary Bride (Princess Seductions #1) by Annie West, Cat has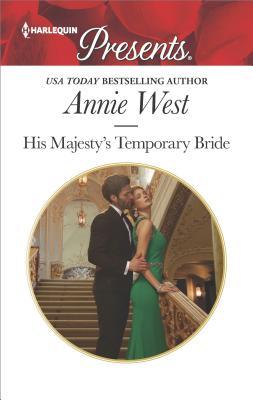 had a tough life being the illegitimate daughter of Royalty, but now she's been asked to step in and pretend to be her half-sister, Princess Amelie, after her young woman disappears. Knowing she has absolutely no chance of pulling such a stunt, she accepts the role anyway. However, Cat never expected to fall in love with the man her half-sister is about to be engaged to. Will King Alexander see through the charade and fall in love with her right back or will Cat's deception tear them apart?
"Tell me you understand." His breath warmed her lips. His thumb stroked back and forth across her cheek.
Cat nodded. "You don't want to marry."
"I've got too much to do. There's still so much work to get Bengaria back on track. I haven't got time for a wife. I'm not ready to be a father." Yet Alex didn't draw back. If anything, he seemed closer. "If I wanted a bride it would be different."
Ms. West has penned a very fascinating and enchanting read in this book, which encompasses the mistaken identity trope; two wonderful characters that aren't looking for happy ever after, but find it impossible to deny their attraction; and riveting dialogue that made me absolutely enjoy the growing relationship between the main characters. Will they be able to overcome the tough obstacles they face to be together? Such as whether the hero can accept the heroine's deception when he discovers the truth and whether the hero will choose the heroine after what happens that causes the pair to go their separate ways.
The way this story started had me hooked because the heroine is the illegitimate daughter of Royalty, and yet, she's willing to help her half-sister, even though she believes she doesn't have a hope of pulling off what needs to be done. Will people believe Cat is her half-sister Amelie? Will Cat finally get the chance to meet the half-sister she's never known? However, it was from the moment the hero and heroine met where things got very interesting, as their chemistry is instant and intense and had me determined to discover whether Alexander would be able to win the heroine over. Moreover, the main characters entertained me from start to finish due to their back stories that have them thinking forever after isn't for them, as King Alexander is determined to right the wrongs of his father and doesn't have time for relationships while Cat has seen how destructive relationships can be, so it doesn't make her inclined to get involved. Will these two be able to show each other that forever after is worth fighting for?
Both the main characters were captivating and I loved every moment they conversed, especially since Alex doesn't like deception. What will Alex do if he discovers Cat's true identity? Will he be able to handle the truth, considering his view on deception and lies? As for the heroine, she's resilient, courageous and I liked how determined she was to pull off the fact that she's supposed to be her half-sister. Will she be able to pull it off, considering her profession which is to protect the likes of the rich and famous; people that need someone to protect them from threats? I also liked how Cat challenged the hero by the way she tempts and teases him, even though she knows she shouldn't give in to the intense chemistry that bounces between them.
While the hero, he's confident, tenacious in going after something he wants, and I liked how determined he was to make things better for his country now that he's King. I also liked the decisions he made when it came to Cat and everything he faces because of the fact that he's Royalty and she being the illegitimate daughter of Royalty could cause a huge scandal if they decided happy ever after was for them as a couple. Will he have to choose? Will Cat's half-sister be able to accept her relationship with Alexander, especially when the decision had been made for Alex and Amelie to get engaged?
"You trust me not to step on your feet this time?" she whispered.
He leaned in as she placed her palm in his. "I'll brave even that for the chance to hold you."
A laugh bubbled up. "I knew from the first you were a smooth talker. Dangerous."
He smiled. That private smile that was no more than a flicker of movement at one corner of his lips. Its effect was devastating, turning her insides over. "But you don't run from danger, do you, Cinderella?"
Overall, Ms West has penned a fantastic read in this book where this couple's chemistry was intense, the romance special and full of exquisite heat and passion, as Alex is determined to break Cat's control when it comes to her denying them what they both desperately want; and the ending had me cheering for this couple's happy ever after. Alex has a big decision to make and I liked what he was determined to do to show Cat that she means everything to him, especially with what they were facing that could tear them apart because Cat wasn't willing to risk Alex facing a scandal. I would recommend His Majesty's Temporary Bride by Annie West, if you enjoy the mistaken identity trope or books by authors Melanie Milburne, Dani Collins, Michelle Smart and Carole Mortimer.

Book Info:

Publication: September 19th, 2017 | Harlequin Presents | Princess Seductions #1
Out of the shadows…
As the illegitimate secret daughter of royalty, Cat's life has been far from luxurious. After years of bullying, she's set against a return to her childhood home. But her princess half sister has mysteriously disappeared ahead of her engagement to charismatic King Alexander.
…into the bed of the king!
Cat agrees to stand in for her–but she didn't agree to the electric attraction between her and Alex! He might have no idea who she really is–but when their insatiable desire threatens to strip away every boundary between them, Cat cannot hold back from the temptation of Alex's caress…