Woo'd in Haste by Sabrina Darcy: Woo'd in Haste and its companion Wed at Leisure are "Taming of the Shrew" inspired novellas. They are basically two parts of the same book, one from Bianca's and one from Kate's point of view. And yes, Bianca and Kate, the same names as the main characters in the "Taming of the Shrew!" Indeed, the parallels abound! And the book acknowledges it too, with one character even thinking "That sounded ridiculous, impossible, and positively Shakespearean."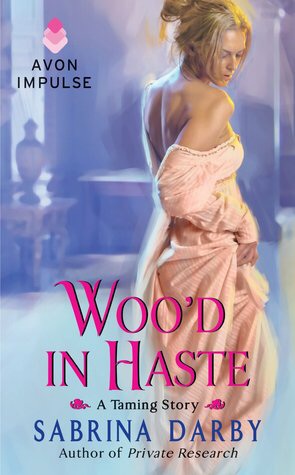 Woo'd in Haste is Bianca's story. The sunny and blond second daughter of Lord Mansfield, she is stuck at home in the sleepy town of Watersham because her older sister Catherine refuses to allow her a season in London. Stopping by to visit his friend Reggie, the younger brother of the Duke of Orland, Lucian Dorlingsley, Viscount Asquith, heir to the Earl of Finleigh, has fallen instantly and completely in love with Bianca. The only problem is that Bianca does not know that Luc exists, and if she did, there is a question if Lord Mansfield would allow her to marry before her older sister. However, Reggie is rather devious young man, and manages to finagle Luc into the Mansfield household as a tutor for Bianca's half-brother. As "Mr. Dore" Luc manages to charm and romance Bianca, and teach Thomas a few useful bits of Latin, Natural History, and Geography also.
She thought back over all the moments in the last few weeks, the way her heart would race when he was near and her skin would tingle, the way she looked forward to his company. He had a way of telling stories, anecdotes about his life and his friends that had her breathless with laughter. And then there was his touch. Forget skin tingling. This was skin on fire. A pleasurable burn.
But then there is a complication…Catherine is on her way home and is having a house party! Will Luc be found out? With Catherine be unreasonable? The tension is high as you move to the end of Woo'd in Haste!
Because this is a novella, you learn all you can about the characters very quickly. Bianca is relatively happy bluestocking, living at home with her much younger half-brother, governess and father, but at nineteen she has feelings of resentment and actual dislike of her older sister. When Luc, an amiable fellow who just really likes Bianca and wants to be with her, comes along, not only is it a chance for love, but a chance for independence and rebellion against the dictates of her sister. Catherine appears in the last third of the book, you don't get much a sense about her, except how Bianca feels about her, which is mistrustful and fearful. Catherine makes Bianca feel anxious, which is sad because they had a good childhood and something made Catherine distant, but Bianca doesn't know what it is. However, the book ends before they can work anything out.
That was also the main problem I had with this short and clever little book. Most likely due to it's novella status, Woo'd in Haste ended very abruptly, which took me somewhat aback. I must say, this was all sorted out once I read the companion novella (reviewed separately), but as a stand-alone work, and the first read of the two, it does come to rather a screeching halt. However, in general, I enjoyed this book, and if you like your stories both Shakespeare-themed and somewhat serialized, this would be an ideal read for you!
Book Info:

Published May 13th 2014 by Avon Impulse
Miss Bianca Mansfield is ready for her debut. If only her older sister didn't insist on marrying first. She's doomed to wait to find love. Until she meets . . . him.
For Lucian Dorlingsley, Viscount Asquith, recently returned from an extended tour abroad, it is love at first sight. He's determined to meet Bianca, even if it means masquerading as a tutor to her young half-brother.
Soon Bianca is torn between love and duty and about to make a desperate decision. Can Lucian calm her fury over his betrayal when he reveals that he's not nearly as improper a match as he seems? And will they ever be able to find a match for her older sister to turn this masquerade into wedded bliss?