Written in the Stars by Luann McLane: Mason gave up his dream career of pro-fishing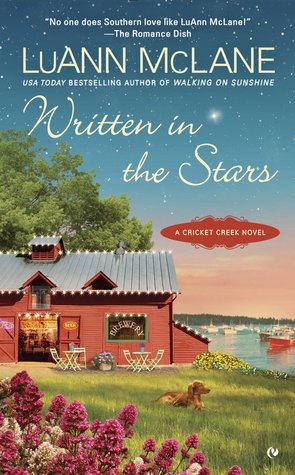 in order to help save the family marina. Now he's trying to get his new dream of a craft brewery to be a reality. He's crafting a variety of beers and gearing up for the official opening. The local businesses plan to stock his selection after the official opening.
Grace is looking forward to spending some time with her brother and sister-in-law as they eagerly await the birth of their daughter. Grace has just sold her cosmetics company and knows she'll be looking for her next challenge sooner rather than later. Grace can be a bit of a klutz and isn't good with directions. She arrives in Cricket Creek only to immediately get lost and be caught in a storm. Luckily, she is able to find refuge in Mason's brewery.
"Coming with you, of course."
"No, you're not."
"Um, watch me." She took a step closer, clearly meaning business.
"What about the flying cows?"
"I'll take my chances," she announced firmly.
"Are you always this bossy?"
Mason and Grace are definitely attracted to each other from the very beginning, but both are wary of acting on it. Their respective siblings are married, so they will have to see each other in the future regardless of how their own relationship may turn out. Mason is still hurting from a previous relationship, so starting something with Grace who has one foot out the door already is too much risk.
But they can't fight their attraction. They decide they know going in that this will only be a short-term, fun relationship. Which is great, except that Grace ends up investing in Mason's brewery and takes on the marketing aspect for her newest project. They butt heads over the name, theme, and logo as Mason struggles to embrace her vision. With the opening in sight, they have to deal with their growing feelings and Grace's wanderlust.
"I brought food. Lucky for you, I tossed the bag and my cell phone onto the dock before taking the plunge. Yes, I brought you food."
"You did?" Grace pulled back and did a little jig. "Have I told you lately how much I love you?"
Written in the Stars is a charming, small town romance where the residents are never shy about expressing their opinion and always willing to lend a hand. LuAnn McLane created a well matched couple in Mason and Grace since both are creative, generous, and stubborn. Ms. McLane also included a sweet secondary storyline for Grace and Garrett's mom. Fans of Shirley Jump and Fiona Lowe will enjoy Written in the Stars.

Book Info:

Publication: October 6th 2015 | Signet | Cricket Creek #9
From the USA Today bestselling author of Walking on Sunshine comes a new novel set in Cricket Creek, Kentucky, starring a city girl who meets the man of her dreams in a least likely place—a sweet, small town nowhere near the big city…
No one is more shocked than Grace Gordon when her cosmetics line makes her a millionaire in need of new investments. Bailing out Mason Mayfield's Cricket Creek craft brewery seems like the perfect solution. It doesn't hurt that the sexy country boy makes her weak in the knees…
Sure, Mason is grateful to Grace for saving his brewery. But her upscale marketing plans for his down home business are driving him crazy. She needs a good man to reel her in, and he happily takes the job—especially since it'll involve some time behind the brewery's closed doors.
Unfortunately, Grace has never been good at staying in one place. And now that she's thinking about leaving, Mason has to convince her to call Cricket Creek home—and admit their love was written in the stars…