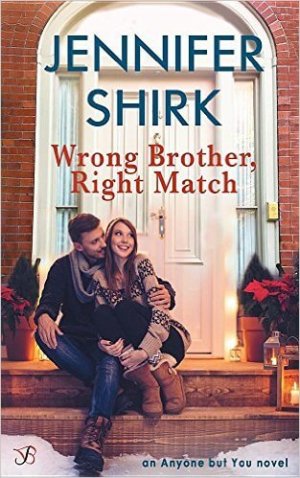 In Wrong Brother, Right Match (Anyone but You #3) by Jennifer Shirk, Kennedy Pepperdine never thought a spanner would be thrown into what she believed of her life being perfect. She runs a successful matchmaking business and has a great boyfriend as well as great friends. That is, until she meets a handsome stranger and they're stuck in an elevator together. Confessing her worries to said stranger shouldn't be a problem because she'll never see him again. However, when her fiancé invites her to meet his family over Christmas, Kennedy's perfect life is turned upside down when she learns the handsome stranger she spilled her guts to is her fiancé's brother.
She gave him a sharp if slightly tipsy look. "I've never said this to anyone, so you can't tell a soul."
He gave her a droll look. "Who am I going to tell?"
She stared him down for several seconds as if judging his sincerity. "Cross your heart?"
"Cross my heart," he repeated, making the motion against his chest.
"Okay." She bit her lip. "It's just that…sometimes I doubt we're meant for each other."
Matt Ellis gets the shock of a lifetime when he discovers the woman he met on an elevator turns out to be his brother's fiancé. With the things she told him and their explosive kiss, he was sure she would have made the right choice when it came to her relationship. Can he convince her to ditch her fiancé and take a chance on him, even though her fiancé is his brother?
What a wonderful book Ms. Shirk has penned in this one. The way this story started set the fast pace of this story for me, because of what the heroine tells a complete stranger about her current relationship. And of course, what happens between her and said stranger, which leaves her with mixed emotions. So many questions floated through my head the more I kept reading. Will things work out for the heroine or become more complicated? Will she choose her happiness over the success of her matchmaking business? Why is she with her fiancé when he's too obsessed about other things to spend the time with her that she deserves?
I loved the dialogue. It was entertaining, well-written and had me hooked to discover the answers to my questions above. Also, the dialogue was intense due to the dilemma the heroine faces to the fact that the stranger she spoke to in an elevator is her fiancé's brother. Talk about complicated. However, there were some light-hearted moments between the hero and heroine that had me smiling and really enjoying this couple.
Both the main characters were riveting, but the heroine did frustrate me at times with her indecisiveness. Why couldn't she see that she and her fiancé weren't meant to be? That she deserves someone that will devote a lot of time to her. However, in saying that, she's a good heroine in the way she's hard-working and although the decisions she had to make were tough, I'm glad that she made the decisions that she did. They were the right ones to make otherwise she would have been miserable – both personally and professionally. While Matt, he was a really good hero. He's sacrificed so much for his family and it's about time he finds some happiness, even if it's at the expense of his brother's. Also, he's hard-working and confident, which is proven by what he's achieved with the family business.
"Confession. I've never made cookies before."
She grinned. "Confession. I've never made them either."
"Oh, this is going to be good. The blind leading the blind," he said with a laugh. He reached up and pulled out the flour and sugar then set them on the counter. "Hey, maybe we need a recipe or something."
Overall, this third book of Ms. Shirk's Anyone but You series was fantastic, because of the dialogue; and the characters, including the rest of the Ellis family. The way this story ended showed how strong Kennedy was, in the way she knows if she ends things with her fiancé that it could put an end to her matchmaking business. However, it was the epilogue that wrapped this story up nicely because it showed blood is thicker than water. I would recommend Wrong Brother, Right Match by Jennifer Shirk, if you enjoy the forbidden relationship trope where the romance stays on the sweet side with the couple sharing some well-worth kisses.
Book Info:

 December 5th, 2016 | Entangled Publishing | Anyone but You #3
Matchmaking guru Kennedy Pepperdine's life is perfect. Perfect job. Perfect friends. Perfect boyfriend. Except…when she gets trapped in an elevator with a handsome stranger, she accidentally confesses a secret: maybe her perfect boyfriend, Justin, isn't so perfect for her after all. But a matchmaker should be able to successfully match herself, right? Thankfully, she'll never see the handsome stranger again. Until she heads home with Justin for the holidays and learns that the sexy stranger is none other than Justin's older brother, Matt.
Matt Ellis is trying to be on his best behavior for his mother–it is Christmas, after all. But when he recognizes the beautiful woman from the elevator–the one he hasn't been able to stop thinking about for months–his best behavior is being held by a thread. Matt's always sacrificed for his family, and nothing is more important than their happiness, but the more time he spends around Kennedy, the more he wonders if her supposed "right match" might just be the wrong brother.