Today it is my pleasure to Welcome romance author
Amber Leigh Williams
to HJ!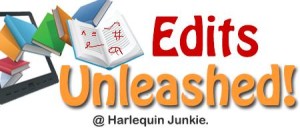 "Edits Unleashed"

gives authors an opportunity to share with readers deleted scenes that did not make it through the final edits into

publication.
Today, Amber Leigh Williams will be unleashing edits from her book Married One Night

Thank you! I'm happy to be back to share more from Married One Night!

The Story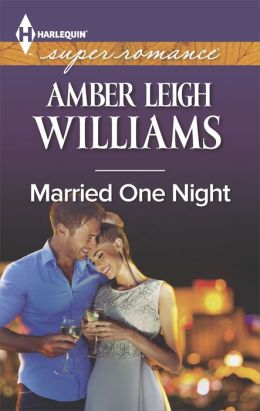 Married One Night was my October Superromance novel, featuring writer Gerald Leighton and his heroine, Olivia Lewis. The unlikely pair winds up getting hitched in Las Vegas. When they discover their mistake, Olivia wants a quickie divorce. Gerald has other plans. Something about Olivia makes him think she might just be the woman for him. He sets about wooing her in his own wonderful way, hoping she'll give the relationship a chance.

The Characters
Olivia is a southern woman. She owns a small town tavern on the Eastern Shore of Mobile Bay. She loves the single life and isn't prepared at all for a man like Gerald to come into her life. She's independent, very self-reliant and she's loyal to a fault. She just doesn't believe in love.
Gerald is a bit of an idealist. He's British, too, and a bestselling author. It isn't hard for him to put faith in the unknown and take risks. When he sees that Olivia is afraid to do both of these things in order to give their relationship a try, he does his best to show her that it's worth it and that he won't let her down. He's probably one of my favorite heroes because any other man might use his money or position to woo the woman he wants, but Gerald goes about it the old-fashioned way and it makes every gesture he makes so much more meaningful. It'd be very difficult for any woman to resist, even somebody as stubborn as Olivia….

The Scene
This scene takes place after a trip to Olivia's grandparents' house deep in the country that actually did wind up in the book. I had to cut it short due to word count and also because Gerald gives Olivia a manuscript of his next book to read. This was a big gesture, but during the final editing process it didn't seem to work. He does wind up giving Olivia the manuscript later in the story and dedicating it to her and it seemed so much more meaningful to be placed toward the end of the story. I'm sharing the scene as it originally was written, however, because I love the dialogue and it shows just how deeply the two have come to care for each other (despite Olivia's wishes) at this point of the story. Enjoy!

Edits Unleashed:
Excerpt:
When they reached the truck, Olivia was rubbing her arms. "It's cooling down. It'd probably be better to take the picnic back home, eat there."

The temperature wasn't so bad, but Gerald sensed she wanted more to leave her grandparents' and get back to the loud tavern and all the distractions that came with it. He nodded acquiescence. "All right. But before we go…"

"What are you doing?" she asked, suspicious, as he opened the passenger door and reached under the seat.

"I told you this morning that Rex and I had a surprise for you." He lifted the heavy box from the floorboard for her to inspect. "Here it is."

She frowned, hesitating to step forward. "What is it?"

He chuckled. "Go on. Open it for yourself."

Another stiff wind beat through the trees behind her. She glanced back, alarmed. Then she looked at him. Choosing to put more distance between the windy grove and herself, she crossed to him.

When she raised her eyes to his face, he gestured to the box he'd laid on the passenger seat. "I promise, it's something you're going to like."

Even with his assurances, she approached the box with caution. "It better not be tequila."

"Why, you don't like tequila, love?"

She muttered something under her breath he couldn't quite hear, lifting the top of the box off and uncovering the first page of a large document. "What on earth…?"

He stepped closer, watching as she scanned the cover page. "It's the next Rex Flynn novel."

Her head rose quickly, her eyes wide as they met his, searched. "What do you mean?"

"I finished it," he said. "And I wanted you to be the first reader."

She lifted her hands from the pages as if they were hot. "No," she said. "No, this isn't right. It shouldn't be me…."

"Why not?" he asked, touching her shoulder. The move kept her from backing away. "You said yourself you'd be first in line to get it. Now you don't have to be."

"But…" She waved her hands in circles as words seemed to fail her. "This is important. I'm nowhere near qualified to offer an opinion on your work."

"I'm not asking you to review it," Gerald told her, patient. "It's for your enjoyment. That's all. I want you to know what happens in the next chapter of Rex and Janet's lives before anyone else. I promised you tomorrow. Now I'm delivering."

She looked at him in disbelief. "You didn't have to do this."

He moved his hand to the nape of her neck and leaned down to brush his mouth against hers. "Turn the page," he whispered, resisting the urge to nibble again—but only just.

The loose-leaf cover page lifted and she came across the dedication. He read the words at the top silently as she did: TO OLIVIA—MY TOUCHSTONE.

The air rushed out of her. She seemed to almost deflate. When she said nothing, only ran her eyes over the words again and again, he cleared his throat and said, "Usually, I only write an acknowledgement in the back and that's to thank my editor, agent, and anyone who helped with the research. Dedications are so much more intimate. And fitting, in this case."

"You can't…" She stopped, took a deep breath and closed her eyes. "You can't dedicate your book to me."

"I can't?" he asked, raising a brow when she raised her face to his. "Illuminate me, Mrs. Leighton."

She ran her gaze over his face, shook her head. After several moments, she looked away and pressed her hands to her face. "I don't know what I'm supposed to say."

He massaged the tense muscles of her neck and lowered his mouth to her ear. "'Thank you' might suffice."

She lowered her head so he couldn't see her expression and nodded slightly. "Thank you," she said in a broken voice.

"You're welcome, love." He kissed the spot below her ear he'd nibbled underneath the tree and wondered over her pallor and reticence. It was unlike her to draw into herself so far. Before the tension between them had been broken by small talk and muttering. Now, she had submerged herself so far beneath the surface, he feared the Olivia he'd come to know very well over the past few days might never emerge again.

That errant wind swept through the grove behind them, scattering leaves over them both. Frowning back at the spectacle, Gerald put himself between the grove and Olivia and said, "Let's get you home."
Book Info:
What happened in Vegas…followed her home!
Olivia Lewis is not the marrying type. So when a wild weekend in Vegas leaves her with a surprise husband, she's happy to sign anything to erase her mistake—even if that mistake is handsome, charming and comes with an English accent. Fortunately, her groom has other plans.
Bestselling author Gerald Leighton knows he can make his new bride fall in love with him—he just needs time. In exchange for a quickie divorce, Olivia grudgingly gives him a few weeks to attempt to woo her. And whether Olivia likes it or not, Gerald plans on using every second to win her heart!

Book Links:

Thanks for blogging at HJ!
Giveaway:

Today I'll be giving away a mass market paperback edition of the prequel to MARRIED ONE NIGHT, Olivia's cousin Briar Browning's story, A PLACE WITH BRIAR (April 2014/Harlequin Superromance)! The book received 4 Stars from RT BOOK REVIEWS and features many characters from MARRIED ONE NIGHT, including Olivia herself! Good luck and happy reading!
To enter Giveaway: Please post a comment to this Q:

Readers, it's your turn! What's the most meaningful gesture anyone has ever made for you? For Olivia, it was Gerald sharing his work and his words with her. And I'm with her! Once my husband gave me a signed hardback book from one of my favorite authors. The written word is a powerful gift, wouldn't you say? 🙂

Please note: This contest will close on Friday April 17 2015 at 8:59 PM (PT) and the winner(s) will be notified via email and on this Post. Winner(s) will have 48 hours to respond to the e-mail before a new winner is selected. All entrants must adhere to HJ's official giveaway policy.

Meet the Author: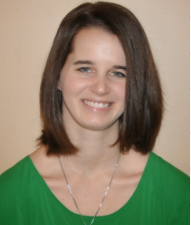 Amber Leigh Williams lives on the Gulf Coast. A southern girl at heart, she lives for beach days, the smell of real books, and relaxing with her husband, Jacob, and their sweet, blue-eyed boy. When she's not running after her young son and two, large dogs, she's usually curled up with a book. Find more on the web at www.amberleighwilliams.com!
Website | Facebook | Twitter |