Welcome to Harlequin Junkie's
5th
Annual

Reader Appreciation
#BOOKMAS
EXTRAVAGANZA!
HJ's Bookmas Extravaganza is our annual celebration of YOU, our loyal and engaged readers of Harlequin Junkie blog and the romance community.
Thank You for all you do; for all the tweets, re-post, shares, comments. We <3 You!
From Naughty to Nice and Everything in between….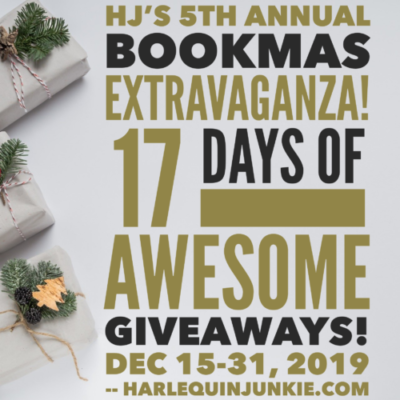 On the 1st Day of #Bookmas…
UPtv gave to me:

 A chance to win Super cute GilMORE the Merrier cozy socks + an UPtv Yeti tumbler

With programming that celebrates life's biggest moments, UPtv is America's most trusted network for uplifting shows that you can watch together.
In the spotlight today…
Snowbound for Christmas – Premieres Sunday, December 15 at 7 p.m. ET
Based on the best-selling Harlequin book "Snowbound with the CEO" by Shannon Stacey.
A marketing executive is invited by her charming and handsome boss to pitch a major project to prospective clients at a posh resort and the two get snowed in together before any of the other guests can arrive. Now, with the hotel to themselves, a fairytale snowscape outside and sparks flying inside, they find that being alone together is all the Christmas magic they need.
Stars: Zarrin Darnell-Martin, Henderson Wade, Scott Thompson, Josephine Buettner
Giveaway:

(2 Winners) A chance to win Super cute GilMORE the Merrier cozy socks + an UPtv Yeti tumbler. (US)
To enter Giveaway: Please complete the Rafflecopter form and  

Leave a comment with your thoughts on the movie…